Plaza renovation lags behind estimated completion set for October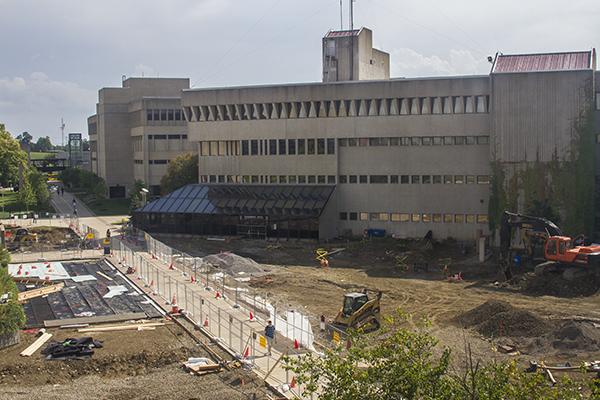 Phase two of the plaza renovation project is still underway and sitting six to eight weeks behind schedule, according to NKU Assistant Vice President of Facilities Larry Blake.
This phase includes the area between NKU's Fine Arts Center, Founders Hall, Steely Library and Landrum Academic Center.  Even though the area is under construction and looks to be a hassle to walk through, there are alternate pathways through and around the construction site for access to whatever building students need to get to, according to Blake.
"As far as traversing the area, [the construction] won't have much of an impact," Blake said. "Dirt and noise will be there, but we'll try to minimize that. There may be some small inconveniences, but the impact is mainly visual."
Student opinions were mixed as to the severity of the inconvenience now that the semester is underway.
Tiffany Gulley, a sophomore social work major that travels through that area said, "It's not really inconvenient; there are just obstacles that you have to go around."
Kimberly Kromer, a freshman English education major, concurred. "I don't think it's really an inconvenience," Kromer said. "It smells bad, but it doesn't really bother me."
Kaitlin Conway, a sophomore electronic media and broadcasting major had a differing opinion.
"Most of my classes are in Founders Hall and it's kind of crowded going in one door," Conway said. "It's pretty inconvenient."
Freshman Maggie Fulmer agreed, saying, "It takes away from the looks and access of campus.  Sure it'll look nice when it's finished, but it's a hassle right now."
Others felt that the renovations to the plaza weren't really even needed.
"It's an inconvenience because a lot of [campus] is blocked off," said freshman media informatics major Billy Chanatry. "I've overheard some upperclassmen saying that there wasn't really a reason to be doing it, and I agree with that."
The entire project was originally slated to be completed with minor beautification needed before the semester started, but this summer's seemingly non-stop barrage of rain postponed the work excessively.
"We lost about six to eight weeks due to the weather," Blake said. "Depending on the upcoming weather, it could even be more."
Blake said phase one of the plaza renovations went a long way in making the campus look updated and more appealing, and he said he wants to see the same thing with phase two.
"There seemed to be a line between the new side of the plaza and the old side," Blake said. "You could see many students enjoying the renovated side, and the old side seemed bare."
Among the plans for phase two are new places to sit, relax and study. According to Blake, there will be fountains to create background noise, and a green lush overhang by the library and trees to help lower the temperature of some of the seating areas. These additions will also include a new amphitheatre which will be located next to the Fine Arts Center.
"All of the renovations are aimed at making [campus] a better place to be," Blake said. "And a better place to study."