See Ya Later, Homies
I must confess that this stage in my life was not envisioned. I had no plan for college, much less post-grad. For as long as I can remember, my vision of growing up was portrayed through dreams of becoming a famous actress or singer. I'd be on tour with Britney Spears, and married off to Justin Timberlake. Can you tell I'm 90's child? (But seriously, I won a Young Authors award for my book about BritBrit.)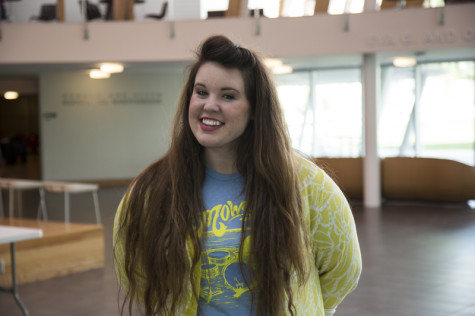 Any-who, I had dreams of fame, and must have completely skipped this phase of my life in daydreams and diary entries. My early 20's seemed like something that would just happen, and I didn't need to have a plan. But here I am, a first generation college student graduating in mere days. Now what? Oh the irony. Payback really is a pain, I had asked my friends last year who were graduating what they'd do for the future and I scoffed at their lack of planning. Now look at me.
I've delved into the terrifying realm of emails, job applications, proofreading my resume countless times, and yet, I have no solid plan for the future. Yes, it's terrifying. Future grads take note.
And yet, this is not my way of complaining about
jobless life at this stage in my career. This is so much more.
Farewell NKU, you've been my home, my life, my rock and so much more for the past four years. My, how time flies. Trying to put into words my gratitude for this university is like trying to tweet about my life in 140 characters or less. Impossible.  NKU embodies all that has shaped me.  I am a better person for attending this university, getting involved in the plethora of activities offered, and creating bonds with faculty, staff and students that will last a lifetime.  I am thankful.
Thank you NKU for being my friend. Thank you NKU for being my enemy.  For at times, when I was swimming in exams, projects, internship work, and more — you didn't give up on me, but you still kept me going.  Thank you NKU for allowing me this opportunity to even attend college, without your help in financial funds and morale, I'd be a completely different human being, and short of a degree.  As Fall Out Boy would say, Thnks Fr Th Mmrs.  Thank you for the moments — happiness, the loss of loved ones, the passion to succeed, the gallons of coffee intake, the photo-shoots, the flash-mobs in the Student Union, the musicals, the sisterhood, the meetings upon meetings upon meetings, the Homecomings, the Movie on the Lawns, for literally being a face for NKU at times (see grad fair posters)… I think you get the idea. I'm really thankful.
It is no easy task to say goodbye, for up until now, it hasn't truly sank in that I will no longer be housed in Griffin Hall and the Student Union.  No more going to work at The Northerner between classes.  No more trips to the Starbucks patio, where you'd more than likely find me on any given sunny day.  No more Kappa Delta sisterhoods or mixers.  No more classes. No more professors.
No more college.
As the tears begin to well-up in my eyes as I write this, I am blessed. I have found some of my best friends here, taken more chances than I thought I ever would, I built an identity, I even confessed my lack of a love life to the entire student body through a column similar to this.
And thus, I must thank The Northerner.
The newsroom tucked away in the dark hall of the 1st floor of Griffin Hall, this has been my home for the past year.  Serving as the Promotions Director for the paper has been an amazing experience. Although I love Perks of Being a Wallflower, this is not the land of misfit toys.  Yes, we see things, yes we report about them, and yes we make spelling mistakes — we're human. And these humans have become my mini family.  We're all so different, yet this paper is the glue that holds us together. Much like NKU is the glue that holds my fellow students and I together.
Northern Kentucky University: Dreamers Welcome. I dreamt, I attended, and now I graduate. Dream-level conquered. Now, as I travel into the "real world," I am excited.  Yes, I will miss those students younger than I who will try to tell you that I'm their mentor, but in reality, they are mine. These people who have such a spark, a twinkle in their eye, and a passion that will surpass the stands of time.
And so, I must bid thee farewell. Although it really is more of a "see ya later, homies," for I am and will always be a Norse.
I'll be back for Greek Sing, Homecoming, and all the other events. I may be standing awkwardly in the back, but alas, I'll be that creepy alumna that no one recognizes. Just wait. Until then, I'll continue to listen to my vinyl, stress over which Instagram filter to use, and procrastinate with the best of them. Remember: collect moments, not things… and read more of The Northerner. 😉 #NKUnextstep