Community chosen mascot makes first appearance
The new Victor E. Viking made its first appearance of the year Wednesday during the Hoops for Health event during the NKU women's basketball game against Stetson. As his first act, Victor sounded the gjallarhorn during pregame festivities.
His appearance comes a week after the athletic department released the results of the poll asking for the NKU community's input on what should happen with the mascot.
"Today was the first game we could get him back," said Brandon Hays, assistant athletic director for marketing and promotion. "The kids loved him."
After a week of voting that saw over 7,000 individual responses, according to the university, the NKU community chose to keep the "new" Victor suit, but wanted the original Victor head.
"It was kind of inspiring to see how many people cared about it and how much it meant to them," said Bryan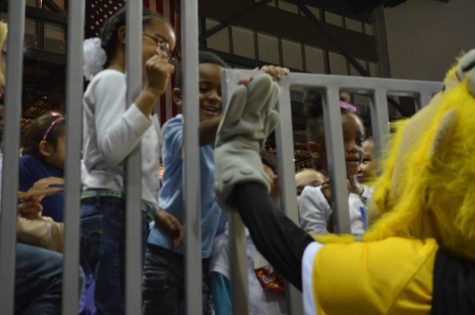 McEldowney, assistant athletic director.
This option received 59 percent of the vote, while totally remaking the old Victor suit received 34 percent of the vote and keeping the new suit received 7 percent of the vote.   
"This creation came from SGA, which is the voice of the students. You can't do any better than that," Hays said.
For the remainder of the academic year, the university will use the original Victor head with the new costume for all events.
At the conclusion of the school year, the athletic department will work with the Student Government Association and Olympus Group in Milwaukee to recreate Victor's head. The new head will cost around $3,000.