Volleyball clenches narrow victory over Evansville
NKU's women's volleyball team returned home to face the University of Evansville Tuesday Sept. 16 after returning from the Blackbird Invitational in New York.
The Norse would battle the Aces through all five sets before settling for a 3-2 victory, improving 7-3.
"That was a really fun match today," Head Coach Elizabeth Hart said after the game. "I thought we did really well, we responded in the fifth set."
The game didn't start of so fun for the Norse though.
Both team's would battle for the first set, but the Norse would struggle to pull ahead until a point came from Keely Creamer, who averaged a .571 hitting percentage for the first set, taking NKU into the lead for the first time. It wouldn't be enough however as the Norse would lose the set 22-25.
The second set would start in a similar fashion, with both team's struggling for the lead. Evansville would manage a 15-14 lead over the Norse, until a kill would come from Tristen Simpson that would send the Norse on a three point run. The Aces then tied the game up at 19-19 before Creamer would come back strong and lead the Norse to a 25-21 win for the set.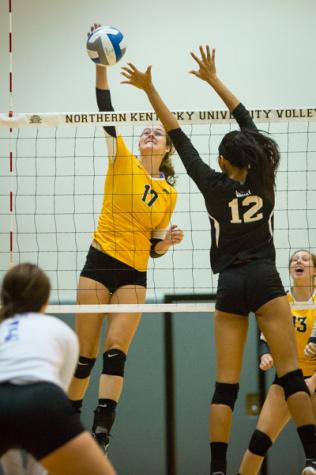 NKU would go into overdrive in the third set, quickly winning 25-14 over Evansville. For the set Jenna Ruble, who had a career high of 20 kills for the night, had a .152 hitting percentage, Creamer had a .333 hitting percentage, and Jayden Julian, who had her third double-double of the year with 13 kills and 13 digs, would have a .233 hitting percentage.
The fourth set would quickly turn against the Norse as they never held the lead in the set and would lose the set 25-20.
The final set would see the luck turn back to the Norse, as the final point would come from MacKenzie Eskridge, on a service ace.
"They're a great blocking team, we just had to keep telling the hitters to stay on it," Hart said. "I thought the girls did a really great job of staying on it and attacking."
NKU will turn to the road for their next six games before returning home Oct. 10 to face North Florida.