Interim pres. signs letter urging Congress for immigration fix
NKU's Interim Pres. Gerard St. Amand signed a letter with almost 800 other universities urging Congress to work on long-term immigration reform on Thursday.
Written by the American Council on Education, which represents nearly 1,800 college presidents, the letter is a response to President Donald Trump's recission of Deferred Action of Childhood Arrivals (DACA) on Sept. 5.
DACA, a 2012 immigration policy that allows undocumented individuals to work and attend school in the U.S, affects over 900,000 individuals in the U.S. Trump called for Congress to pass a permanent replacement policy before March 5.
Like Trump, the council's letter calls on Congress to "pass a long-term legislative fix as soon as possible to protect Dreamers, outstanding young people brought to our country as children."
"Children brought to the United States at a young age did not have a choice in the matter and are today Americans in every way but immigration status. It remains in America's best interest to enable them to use their knowledge, skills and energy to continue to make the strongest possible contribution to our country," the letter said.
Amand joined almost 800 other university presidents in signing the letter addressed to Speaker of the House Paul Ryan, House Minority Leader Nancy Pelosi, Senate Majority Leader Mitch McConnell and Senate Minority Leader Chuck Schumer.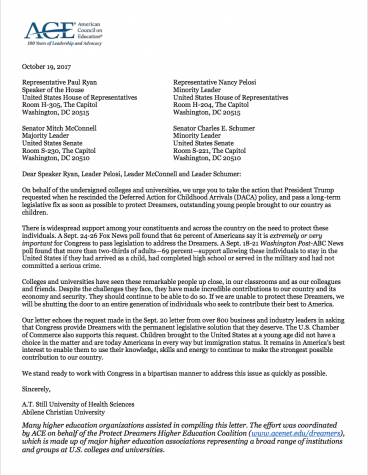 Several other regional universities joined NKU in signing the council's letter, including University of Cincinnati, Xavier University, University of Kentucky, Eastern Kentucky University and Ohio State University.
According to senior advisor to the president, Dr. Kathleen Roberts, Amand signed the letter at the end of the day on Wednesday to be sent to Congress on Thursday. Roberts read the letter to students and administrators at Student Government Association's DACA Town Hall on Thursday night.
RELATED: Immigration town hall gives community forum on national issue
"This statement is directed at Congressional leaders, those who will have the strongest influence that can really make a change," Roberts said. "That's what we're really talking about, where are the leverage points for making a change."
The American Council of Education's full letter can be viewed at www.acenet.edu.