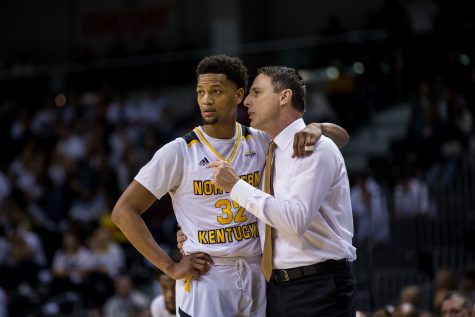 Matthew Dietz, Contributor

February 29, 2020
The Wright State Raiders men's basketball team defeated the Northern Kentucky Norse 64-62 on Friday night, writing another chapter in what has become a storied rivalry in the Horizon League.  With the victory, Wright State has clinched the regular-season championship in the Horizon League standings, earning the number-one seed in the Horizon League Tournament.
Tags: BB&T, BB&T Arena, Bryson Langdon, Dantez Walton, Darrin Horn, ESPN+, ESPN2, ESPNU, Horizon League Regular season champs, horizon league tournament, INKUBATOR, Jalen Tate, Karl Harris, ncaa, NKU, NKU loss, NKU MBB, NKU men's basketball senior night, NKU Norse Men's Basketball, NKU Senior Night, NKU vs WSU, rival, rival game, Rivalry, rivalry game, senior night, tournament time, Trevon Faulkner, Tyler Sharpe, Wright State, WSU, WSU Raiders
Follow us on Instagram!
Email Updates
Enter your email address below to receive our daily email updates.