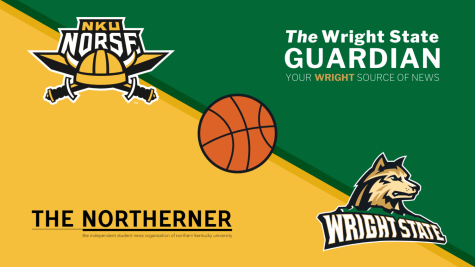 Sierra Newton and Makenzie Hoeferlin

January 24, 2020
Wright State University (WSU) and Northern Kentucky University (NKU) hold the most intense rivalry in the Horizon League, starting in 2015 when NKU joined the league. NKU and WSU have fought back and forth for years, taking turns earning Horizon League titles and going to the NCAA championships. This intense, long-term rivalry began in July of 2015 when it was announced that NKU would be joining the Horizon League.
Tags: Carson Williams, Cole Murray, Darrin Horn, Drew McDonald, Horizon League, Horizon League Basketball, Horizon League Men's Basketbal, Jalen Billups, John Brannen, Lavone Holland II, Makenzie Hoeferlin, ncaa tournament, NKU, NKU v WSU, NKU vs WSU, Nutter Center, Rivalry, Scott Nagy, The Wright State Guardian, Wright State, Wright State Raiders, Wright State Rivalry, WSU, WSU Guardian, WSU Rivalry
Follow us on Instagram!
Email Updates
Enter your email address below to receive our daily email updates.