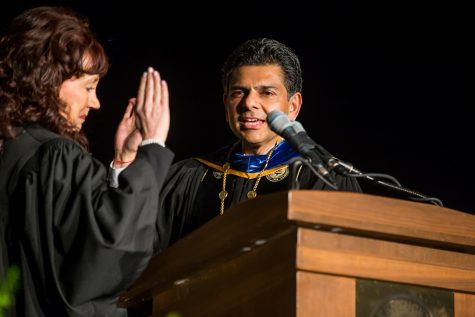 March 30, 2019
Family, friends, colleagues and students welcomed in the sixth president of Northern Kentucky University, Dr. Ashish Vaidya on Friday during his official installation. Vaidya assumed the role as president on July 1, 2018, but was formally recognized during the installation. Vaidya thanked everyon...
Tags: Andrá R. Ward, BB&T Arena, California State University, ceremony, Dr. Ashish Vaidya, Dr. James Votruba, Dr. Leon Boothe, Dr. Nita Vaidya, Gov. Matt Bevin, Lee Scheben, Matt Bevin, Mitch McConnell, NKU, northern kentucky university, Presidential installation, Provost Sue Ott Rowlands, Richard Rush, Supreme Court Justice Michelle Keller
Follow us on Instagram!
This error message is only visible to WordPress admins
Warning: The account for northernermedia needs to be reconnected.
Due to Instagram platform changes on March 2, 2020, this Instagram account needs to be reconnected to allow the feed to continue updating. Reconnect on plugin Settings page
Email Updates
Enter your email address below to receive our daily email updates.