NKU men's basketball takeaways from season's first two months
Norse are 5-8 in 2021-22 as conference play heats up
January 12, 2022
The NKU men's and women's basketball teams had five games scheduled last week from Thursday through Monday. The men were slated to host IUPUI on Thursday, UIC on Saturday and close rival Wright State on Monday, while the women were set to welcome Robert Morris and Youngstown State to BB&T Arena on Friday and Sunday respectively.
Due to COVID-19 complications within the two programs, exactly none of those games actually happened, as cancellations and postponements rained down in rapid succession over the weekend.
According to Horizon League policy, the cancelled games have been declared "no contests" due to extraordinary circumstances that led to the cancellation, including breakthrough cases among vaccinated individuals.
With that, the next game for both teams will come on the road, as the men's team begins a four-game road trip with Youngstown State on Thursday night, while the women's team travels to Detroit Mercy on the same night. The next home game for either team will be Jan. 20, when the women host Wright State at 7:00 p.m.
As the Norse continue to get healthy and back on the court, the break in games for the time being allows time to take stock of how each team's season has gone thus far, and what could be improved as the Norse chase down Horizon League championships.
We will start with the men's basketball team today before highlighting the women's basketball squad in a separate post tomorrow.
Men's basketball
Record: 5-8 Overall (1-3 in Horizon League)
Ratings (Courtesy of Warrennolan.com, as of Jan. 11)
NET: 299
RPI: 325
Kenpom statistics below are as of Jan. 11.
The Norse were a bit uneven in non-conference play, struggling to close out several tight games down the stretch. NKU suffered three losses to UNC Greensboro (Nov. 12), Western Illinois (Nov. 22) and Eastern Kentucky (Dec. 18) in which they either went to overtime or held a lead late in the second half. Combined with losses against several high-major teams in Indiana and DePaul, the Norse went just 2-5 in non-conference games against other Division-I opponents. Additionally, the Norse are 1-3 to begin conference play, and recently suffered a setback at home to Milwaukee on Jan. 1 before the COVID pause.
On the plus side, the team has clearly landed a star freshman guard in Sam Vinson, the four-time recipient of the Horizon League Freshman of the Week award so far in 2021-22. Vinson has stuffed the stat sheet in his first season in Highland Heights, averaging 10.2 points, 4.1 rebounds and 3.5 assists per game, while also leading the team in minutes per game. 
"We think he's a winner, and we think he's a guy that elevates a team by not just making shots, but making plays and being about winning," Horn said about Vinson following NKU's victory over Eastern Michigan in November.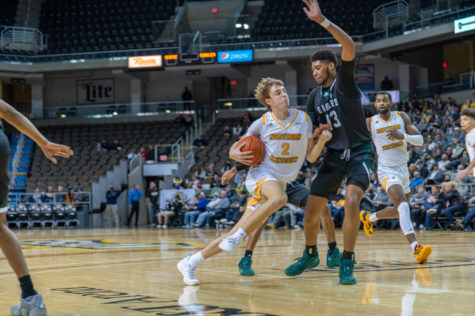 Elsewhere in the backcourt, senior guard Trevon Faulkner (13.2 PPG) and sophomore guard Marques Warrick (12.9 PPG) rank first and second on the team in points per game, and were each able to find much more consistency scoring the ball in December. 
While senior forward Adrian Nelson and junior forward Chris Brandon have not produced offensive numbers that jump off the page in the frontcourt, the duo has been able to make the Norse one of the best offensive rebounding teams in the country. According to Kenpom, the Norse rank 16th in the nation in offensive rebounding percentage, with both Nelson (8.3 RPG) and Brandon (7.0 RPG) ranked in the top ten in the Horizon League in rebounds per game. 
The Norse have also excelled at picking up steals on the defensive end, and forcing their opponents into turnovers. NKU ranks 14th in the country with 9.9 steals per game, led by Vinson with 2.3, while Warrick and sophomore guard Trey Robinson have recorded 1.3 per game. While the Norse have slowed down the three-point attack for opposing teams, they have not had the same success against two-point shots, ranking 326th in the country in two-point field goal defense.
On the offensive end, consistency has been evasive at times. NKU ranks 312th in the country in effective field goal percentage according to Kenpom, 335th in two-point field goal percentage and 304th in free-throw percentage. The Norse have proven that they can crash the offensive glass effectively, but converting on those second and third chance opportunities will go a long way in determining the ceiling for this 2021-22 squad.
Top individual performance: G Marques Warrick vs. Canisius (Dec. 8)
The Norse have had several impressive individual performances so far this season, but none was more important than the 30-point effort that Warrick displayed against Canisius on Dec. 8. Having lost four games in a row, including two to conference opponents Cleveland State and Purdue Fort Wayne, Warrick's 30 points was a career-high, as he shot 10-14 from the field with four three-pointers. 
Warrick's performance also came on the heels of a tough two-game stretch in which the sophomore guard shot just 5-22 from the field and was not able to show the offensive brilliance that Norse fans saw throughout last season. 
"I didn't lose confidence in myself, my teammates and coaches didn't lose confidence in me. Even in the bad offensive games, they kept drawing stuff up trying to get me going. Tonight, I think getting to the free throw line was big for me and taking the ball to the basket hard and getting a bucket," Warrick said after the game.
Other memorable performances thus far in the season was a 22-point effort from Faulkner against Indiana, all of which came in the second half, a 20-point performance from freshman guard Hubertas Pivorius against Western Illinois and an eight-point, 16-rebound game from Brandon earlier this month against Milwaukee.
Player to Watch: G Trey Robinson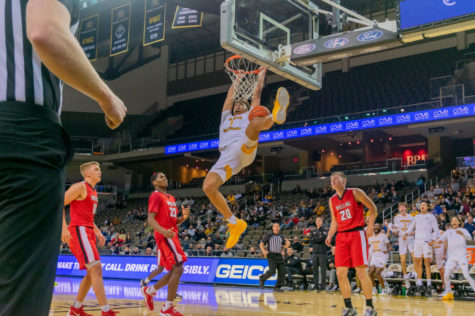 The easy answer here is Vinson, who fans should be watching already as he makes his case to become the second Norse in as many years to win Horizon League Freshman of the Year, but Robinson is an intriguing piece for the Norse that could be a difference maker late in the year. While Robinson's averages of 4.4 points and 3.1 rebounds don't jump off the page, the 6'6" guard is vital on the defensive end with his athleticism, and showed what he can do offensively on Dec. 4 against Purdue Fort Wayne, scoring 16 points while shooting 4-7 from three-point range. 
Several games to watch
Jan. 28- vs. Purdue-Fort Wayne: The Mastodons will come to BB&T Arena at the end of January for the Norse next scheduled home game at 7:00 p.m. PFW defeated the Norse in early December, led by 21 points from guard Jalon Pipkins. Guard Jarred Godfrey is also a key player, averaging 17.1 points per game.
Feb. 3- vs. Oakland: The top-rated team by Kenpom in the Horizon League, the Golden Grizzlies are led by two all-conference caliber players in guard Jalen Moore and forward Jamal Cain. Oakland was also the team that knocked the Norse out of the Horizon League Tournament last season, winning 69-58 in the semifinals at Indiana Farmers Coliseum
Feb. 13- AT Wright State: The first of two scheduled meetings between these two rival programs was postponed this week (Update: According to a press release from NKU Athletics, the two teams have rescheduled the contest for Jan. 25. The game will tip at 7:00 p.m. at BB&T Arena.) but the Norse still have a chance to defeat the Raiders on their home court next month. Despite losing forward Loudon Love to the NBA G-League, Wright State still has two of the best players in the league in forward Grant Basile and guard Tanner Holden.