Norse Notebook: Ross finds a home in Norse Nation
In two seasons as a Cincinnati Bearcat, Cameron Ross made just nine appearances, throwing a total of eight innings and ending the 2016 season with 5.62 ERA. In those eight innings, Ross walked 10 batters, hit three batters and struck out just five.
On Sunday, Ross made his 17th appearance of the season for the Norse after transferring to NKU for his junior year. Ross threw 2.2 innings and allowed just two Youngstown State hits and struck out two Penguins without allowing a run.
"It's what I came here to do," Ross said. "I came here to pitch as much as I can and win ballgames." 
Ross has broken out in a big way this season, throwing 26.1 innings with a 3.24 ERA. Ross has struck out 21 batters while walking just 12 and allowing batters to hit .235 against him. 
"He just competes so hard," head coach Todd Asalon said. "We don't want to overuse him but we have to win the conference and he's our guy."
Ross credits Asalon for giving him a chance, something he says he didn't have at his former school.
"It means everything. I believe in myself but if the coach doesn't believe in you it's hard for you to prove yourself," Ross said. "Coach Asalon and Dizzy really believe in me and it means a lot. It's give you a lot of confidence."
Ross describes his pitching style with one word: Angry
"Everyone who steps in the box against me I don't like them instantly," Ross said. "In my mind, I'm on the mound and that's my batters box and your gonna have to come through me to get on base.
"I hate to give up hits, I hate to give up runs, I hate to walk people. I just don't want to fail and that's what drives me."
That anger comes partially from people who have doubted him in the past but also from his passion for the game.
"I love playing baseball and I love winning ballgames and I found that is the most useful way to channel my energy."
Moffatt finding his stride 
Prior to NKU's series with Radford at the beginning of March, Mike Moffatt was hitting just .086 with no homeruns and no extra base hits.
With a year of experience under his belt, Moffatt said he was pressing at the plate and trying too hard to be the difference maker in the Norse lineup. 
"Realizing there were eight other guys on this team that can do just as much as I can. That's what I had to realize and all of a sudden the numbers started coming," Moffatt said. "I knew what to do so I felt like I had to perform that way. Little did I know that if I didn't think that way I could be the guy."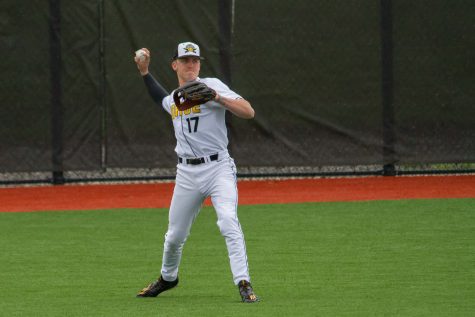 Moffatt collected five hits in the Radford series and since then has raised his batting average to .247 and has recorded a hit in nine of his last 12 games.
Moffatt was a major key in this weekends series with Youngstown State, hitting .416  with four runs scored, a homerun and a game saving catch in centerfield in the eighth inning on Sunday. 
"I think he isn't over swinging anymore," Asalon said. "He's laying off pitches in the dirt and waiting for his pitch. He plays a great centerfield. We need him to be good for us to be good."
Horizon League Update
NKU currently sits in third place in the Horizon League standings with a record of 5-1 in league play, after taking two out of three games from Youngstown State.
"Whenever you get off to a fast start it's huge," Asalon said. "Our guys are confident and they are playing well."
For Moffatt, it not only gives him and his Norse teammates confidence against the remaining Horizon League schedule but also in the mid-week non-conference games remaining.
"It changes the rest of the season," Moffatt said. "We're not just trying to get in the conference tournament, we are trying to win the conference tournament and get to regionals and do something for the school just like men's basketball and women's soccer." 
The Norse sit behind Wright State who are currently 9-0 in league play and UIC who currently sits at 8-1 in Horizon League play.
All three teams are the only teams who sit above .500 in league play.
After the weekend series, the Norse are second in the Horizon League in three offensive categories; team batting average (.276), slugging percentage (.417) and on base percentage (.361). The Norse lead the league in runs scored (153), hits (251) and doubles (55)
The Norse are also tied for second in the league with 23 homeruns, which is already tied for their season total from last season. 
"I don't ever worry about us scoring runs," Asalon said. "I think we are pretty locked in at the plate and our numbers prove that. But your offense starts to press when they know they have to score a lot of runs."
The Norse pitching staff has struggled the majority of the season and rank fifth in the Horizon League with a 6.73 team ERA. The Norse allow opposing teams to hit .310 against them, which also ranks fifth in the league.
The Norse have allowed 192 runs this season. The two teams they are chasing, UIC and Wright State, have allowed just 84 and 93 runs respectively.
Trey Ganns had a rough outing in game two of the weekend series with Youngstown State, lasting just 4.0 innings and allowing five runs. The bullpen, other than Ross, has really struggled to keep teams off the scoreboard as well.
Asalon knows the Norse aren't going to succeed in conference play without better performances from his pitching staff.
"We are only going to go as far as our pitching," Asalon said. "If our pitching is bad, we are going to be bad. If our pitching is good we are going to be real good cause we can really swing it."
After a Tuesday matchup with Eastern Kentucky, the Norse will travel to Valparaiso for their first conference road series of the season. The Crusaders are 1-5 in conference play but hold a team ERA of 3.88, third best in the Horizon League.
Current Horizon League Standings
Wright State (18-7, 9-0)
UIC (17-7, 8-1)
NKU (10-16, 5-1)
Youngstown State (6-18, 3-6)
Valparaiso (9-16, 1-5)
Oakland (3-22, 1-5)
Milwaukee (7-17, 0-9)