Preview: NKU baseball looks to improve Horizon League performance
The NKU baseball team will look for their first winning season in their Division I history, after going 20-34 during the 2016 season. If the Norse want to take that step forward, they will have to improve the way they perform in Horizon League play.
The Norse played well in their mid-week non conference matchups, but went just 9-21 in Horizon League play.
"Mid-week's are more of a different mindset. There's less pressure," senior second baseman Kyle Colletta said. "You aren't facing everyone's number one and number two (pitchers). Going into the weekends it's always going to be a dog fight."  
That might explain why the Norse were picked to finish fifth in the league this season. However, head coach Todd Asalon thinks with a year of experience under their belt the Norse will take a step forward this season.
"This year with the experience most of our starters coming back that will make a huge difference," Asalon said. "We played way better towards the end in conference play. We had some up and down weekends but towards the end I thought we played really well."
The Norse will look to start the season on the right foot Friday, when they begin their first series of the season against Campbell University.
One of the reasons the Norse were so up and down last season was because of the pitching staff's performance. The Norse ended the season with a 5.86 earned run average and allowed 43 home runs and allowed opponents to hit .298.
Asalon believes the struggles of the bullpen caused a lot of issues with the overall staff. The Norse recorded just nine saves on the season and the lack of bullpen success led to more stressful innings for the starters.
"Our goal this year is to throw more strikes and make them put it in play," Asalon said. "I think our starting pitching was decent. The back end of the bullpen couldn't hold leads. We got to the point where you run your starters out there too long and they get tired. When we had good bullpens that's when we win. We can't score 10 runs all the time."
Asalon thinks this year's team is better equipped to handle pressure situations, and as a result win more games. The Norse added junior college transfer Jean-Francois Dionne to the pitching staff and are hoping for improvements from junior Trey Ganns and hard throwing sophomore Jordan Menfee in the starting rotation to help ease the pressure on the bullpen.
The Norse offense was the strength of the team, hitting .269 as a team and slugged .369 on the season. The Norse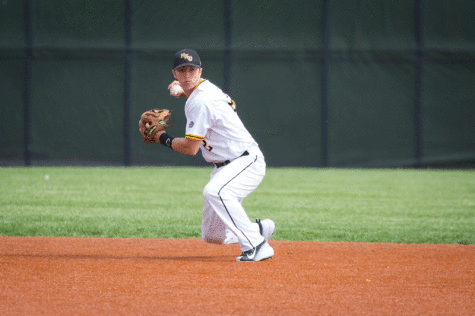 lost their two best hitters, Logan Spurlin and Quint Heady, but hope to make up for their loss with the additions of transfer students Jake Richmond and TJ Alas. NKU returns seven of its starting position players.
The Norse offense got off to quick starts last season, often holding leads in the first couple innings, but struggled to keep the momentum through the game.
"The hardest part of is just staying focused for a nine inning game," Colletta said. "We came out hot and sometimes it's easy to get complacent. Coach Asalon has stressed that when we have a big lead don't let up. It's just a mentality."
In his final season with the Norse, Colletta hopes his team will be able to make a deep run in the Horizon League tournament.
"In my three years of playing this is the best lineup we've had from top to bottom," Colletta said. "We have guys that know how to be successful and more importantly have guys that know how to handle the struggle."
Colletta struggled for a stretch of the 2016 season, finishing with a .269 batting average and recording just 10 RBIs.
"There were times where I was streaky," Colletta said. "I was stressed out at times and pressed. In baseball that's the worst thing you can do. I just need to go back to having fun and enjoying every day."
Players to watch
Richmond will play for the first time in a year after transferring to NKU from Cincinnati. Richmond watched from the bench as the Norse battled their way through the season.
"It was long. Some days were better than others," Richmond said. "I got a few innings in the summer and now I feel I'm ready."
Richmond started 64 games for UC in the 2014 and 2015 seasons, hitting .210 in both seasons and posting a .366 on base percentage in 2015.
"Jake Richmond is going give us a different dimension at short," Asalon said. "He's one of our best hitters if not our best hitter."  
Richmond will play shortstop for the Norse this season and bat second in the lineup behind another transfer, TJ Alas from Eastern Kentucky.
Ganns continued to hit at a solid clip last season, ending the season with a .286 average, 17 doubles and 21 RBI before breaking his foot at the end of the season. Ganns also made 7 starts on the mound for the Norse, and finished with a 3-3 record with a 4.21 ERA, 45 strikeouts and allowed a .270 average to his opponents.
On the surface, these numbers aren't terrific. However, in four out of his last five games Ganns pitched seven innings or more, including a game against Milwaukee where he struck out 14 Panthers in 7 2/3 innings.
"He really came to maturity when we played Milwaukee," Asalon said. "I thought he played really well the rest of the year. We couldn't use him in the postseason which really hurt us. I really think he could've beat Valpo."
Ganns was forced to sit on the bench with his injured foot as his team fell to Valparaiso 10-7 in the first round of the Horizon League tournament.
"It was really hard. For that to happen about a week before our tournament game, that really crushed me," Ganns said. "It sucked to take two steps forward and then take three steps back as soon as that happened."
Ganns has worked to improve his changeup and offspeed pitches so he can become a more reliable starting pitcher this season. .
"Developing a feel for my off speed stuff," Ganns said. "That was my weakness when I first started for NKU, not having that consistent second and third pitch to keep the batters off balance. Once I found a feel for that that really helped me compete a lot better on the mound.
Asalon hopes to use Ganns more as a DH when days he isn't pitching so he will be better rested for his starts on the mound.
"Knowing his role … I think it will be better for him," Asalon said.
Will Haueter excelled in his first season at NKU, hitting .329 which was second best on the team last season. He also batted in 25 runs and hit 18 doubles. Haueter switched between first base and DH last season and will likely be used the same way this season.
"Will is a really smart kid," Asalon said. "What he did as a freshman was pretty remarkable. He knows his swing better than anyone. He's just happy hitting doubles and singles. He's gotten bigger and stronger and is a better hitter this year."
A look at the schedule
The Norse will spend the first month of the season on the road, beginning with Campbell University in North Carolina before heading to California to play Sacramento State. The Norse will play in Georgia and Virginia before returning to the Bill Aker Baseball Complex on March 17 against Milwaukee.
The Norse will play several Ohio and Kentucky schools in their non-conference schedule, including Kentucky, UC, Ohio State and will play Louisville at Louisville Slugger Field.
The Norse will play their two most difficult series of the season later in the season, when they play preseason number two UIC starting on April 13. They will then play Horizon League power Wright State for a three game set starting April 28.