Norse women sweep road trip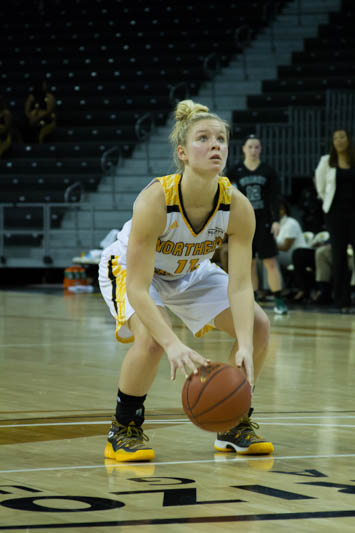 The NKU women's basketball team won both games of a two game road trip this weekend, beating both Valparaiso and UIC. The Norse improve to 7-13 on the season and 3-5 in conference play. The Norse outscored their opponents 128-92 in the two games. It was also the first two true road wins for the Norse this season.
NKU 70, Valparaiso 55 on Friday
Mikayla Terry lead the Norse with 21 points and seven rebounds in the Norse victory over the Crusaders. Terry also recorded four steals and blocked a shot.
Three other Norse players reached double figures in scoring including Rebecca Lyttle who recorded a double-double with 19 points and 10 rebounds. Taryn Taugher reached a new career in points scored with 14 and Kelley Wiegman finished with 11 points.
The Norse shot 46 percent from the field while shooting 33 percent from long range. The Norse also went 19-26 from the free throw line. Despite allowing Dani Franklin to score 29 points, the Norse held Valparaiso to just 35 percent from the field and 20 percent from three.
The Norse outrebounded the Crusaders 36-34 as well.  
NKU 58, UIC 37 on Sunday
Kasey Uetrecht finished with 24 points and eight rebounds in the Norse win over UIC on Sunday afternoon. Lyttle also finished with 13 points and eight rebounds. Wiegman and Terry finished with seven points each. 
The Norse defense played strong in this game, not allowing a Flames player to reach double figures in scoring. The Flames shot just 29 percent against the Norse and went just 2-13 from three point range.
Meanwhile, the Norse shot 43 percent and 38 percent from three. The Norse went 15-18 from the free throw line.
The second quarter was key for the Norse, who outscored UIC 19-9 in the quarter. The Flames then only scored five points in the final quarter to seal the victory for NKU.
Up Next
The Norse return home on Friday to face Oakland at 7 p.m. for their first matchup on the season. The Norse will then face Detroit Mercy on Sunday at 1 p.m. at BB&T Arena. The Norse fell to the Titans in the first matchup of the season. 
Both games will be available on ESPN3.