New league, same student attendance problem
While the recent changes to the NKU athletics logo stirred up strong feelings in students, those emotions were not felt inside BB&T Arena during the recent basketball season.
Many of the students who signed an online petition were absent when the men's and women's basketball teams took the floor for the recently completed season.
The student section was sparsely populated for many of the home basketball contests, which is NKU's most attended sport.
The average number of students who attend basketball games is staggering. NKU only averaged 310 students per game this season for men's basketball contests, which was a 3 percent increase from the previous year.
Women's basketball averaged about 93 students per game.
Brandon Hays, NKU assistant athletic director for marketing and promotions and tickets,  admits this was to be expected from this year's strategy.
"We didn't do a whole lot of targeted student stuff," Hays said. "I've got to find something that when you walk in, it is a student-centric game."
There were several games that drew decent student crowds. Homecoming had the best student crowd, with over 1,100 students in attendance.
After that game, men's head basketball coach John Brannen and several players mentioned that atmosphere helped them overcome a 13 point deficit against Milwaukee and win the game on a last second shot.
Then there were games that not many students went to at all. A game against top-ranked Valparaiso saw one of the lowest student totals of the season. Other games during Christmas break and games on weekends also rated very low in student attendance.
But while the student attendance numbers may seem startling to some, Hays said the overall attendance numbers are not as bad as perceived.
"When I came here at the beginning of this year, there were some people who made pretty accurate statements about the attendance situation," Hays said. "But to say nobody comes to games is a huge overreaction."
The Norse men's basketball team averaged 2,297 fans per game in the 2015-2016 season, which is 220 more per game than the previous season.
The women averaged 1,435 fans per game, which was 293 more per game than the previous year.
This may not look like much of an increase to the average fan of college basketball, but the small attendance increase is just what the NKU Athletic Department was looking for.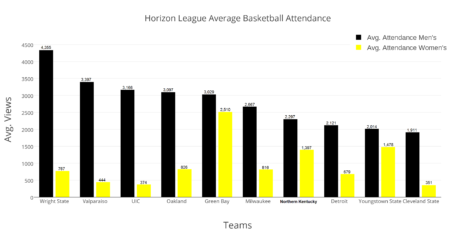 In the Horizon League, NKU ranked seventh this season in attendance at men's games, nearly 2,000 fans behind first place Wright State, who averaged 4,355 fans per game.
The women fared much better against the Horizon League, ranking third in attendance behind Green Bay and Youngstown State.
The NKU Athletic Department's strategy this year was to focus on selling group tickets and selling season tickets. They also hired people dedicated to ticket sales. This resulted in a 30 percent increase in season ticket sales and a 78 percent increase in group ticket sales.
"Overall I'm pleased with the progress we have made," Athletic Director Ken Bothof said. "We believe this is just the beginning of that growth and recognize we need to continue to grow."
The marketing and promotions team also picked 10 games for both women's and men's games to promote and advertise more than other nights and found attendance spiked.
"If we put marketing effort into select games, we can make a difference," Hays said. "Whenever you go to those five games you recognize it's special."
The athletic department has also been focusing on the in-game experience at BB&T Arena to try and not only get fans to come, but to get fans to come back to games.
"We were trying to focus on one new tradition," Bothof said. "Something unique and different."
NKU introduced the gjallarhorn, a replica of a Norse horn which is sounded by a special guest every game. The athletic department also hired a DJ to sit by the student section during games to get more students involved in the game. The athletic department will continue to give out free items to fans and also letting kids come down on the court for autographs after the game.
The NKU Athletic Department has a vision of where they want to be in the future.
"In the next five years, I would love to have the lower bowl full of fans," Hays said.