Students broadcast in a class of their own
Inside BB&T Arena, there is a trailer that sits behind the student section bleachers. From the outside, it doesn't appear to be anything special. The white paint is slightly stained and it lacks the designs and markings that would tell you what the trailer might be carrying.
On the inside however, is the chance to watch a basketball game like you have never seen before.
This trailer is home to the NKU production team. With the exception of professor and director Wes Akers and engineer Bill Farro, both NKU graduates, the crew is made up of 12 NKU students who are either part of the EMB 397 class, or have been hired by NKU after completing the course to do upper level production.
Most of the class does the camera work while the hired students work behind the scenes in the production trailer.
"Most of the larger universities have their productions done by professional crews," Brad Pope, director of communications for NKU said. "We've been doing what every other school wishes they were doing."
Knowing they are on the same level as professional broadcasters gives students like Kasey Long confidence.
"It gives you a lot of pride," Long said. "Because when I'm watching another broadcast I know how to do everything they are doing."
Inside the trailer, the front wall is covered by one large screen that shows the vantage point of all four cameras in BB&T arena during game day. Each camera is connected to the trailer so that what they are recording can be shown on live television. The buttons and switches underneath the screen controls which camera is being seen by the audience and which cameras are on standby.
On this night, Akers, Farro and Elliot Ringo manned the front row positions. Sitting behind them in the second row is co-producer Long, who also works on instant replay.
Behind them sits Jake Free, who is the audio man for the crew. He controls what is heard by the audience on television.
Akers started the program in 2004, when he returned to NKU as a professor after an Emmy Award-winning career as a cameraman. His goal was to give students seeking a career in live television and sports a hands-on experience that will guide them into the professional world.
"We are preparing students to go into a professional sports television environment," Akers said. "It's all about getting students passionate about the field."
It also allows students, like Long, to test the waters of live production and help their love for the field grow.
"I never thought I would like broadcasting," Long said. "But now I would love to stay in the field and do different live productions."  
The crew has gone from televising 10 NKU basketball games to producing every single collegiate home game at NKU by upgrading their equipment to meet ESPN and Horizon League standards. ESPN took the production trailer to its home base in Bristol, Conn. and revamped the equipment and technology to help the crew meet the strict standards of the company.
"We've always tried to make our productions look like ESPN productions," Akers said. "But I never dreamed ESPN would come to us."
Last semester, the production crew was awarded a straight-A report card for their work covering volleyball and soccer games by the Horizon League. According to Bill Potter, Horizon League assistant commissioner for messaging and media, the league has reviewed every production NKU has made.
"The overall quality and setup of Northern Kentucky's broadcast team was top notch," Potter said. "We are proud of what they have done for our conference."
Other schools have also taken note of what the production team has been able to accomplish in recent years.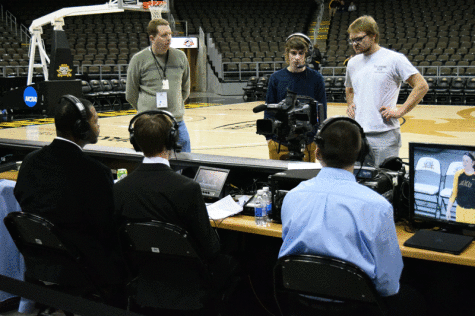 "People watching at other universities think we are awesome," Akers said. "One of the better teams in the A-Sun Conference last year said we were far and away the best production in that conference the past three years."
Senior Elliot Ringo is one of the students working on the broadcasts. He has been impressed by the experience.
"It's pretty cool," Ringo said. "We are doing things professional crews do and other people are noticing that."
Ringo is the computer graphics operator for the crew. He is responsible for all the graphics that appear on the screen as the game goes along, such as statistics and schedules for both teams. It's a challenging and fast-paced work environment.
"When a guy gets a foul in a basketball game, I have to find the player and his statistics from the time he gets fouled to when he steps to the free throw line," Ringo said. "It's taken me about a year to get the timing down."
The experience Ringo has received helped him land a job with the Cincinnati Reds last summer.
"He is the best CG I've worked with," Akers said.
Students like Ringo are what make the program special for Akers.
"All the report card stuff is nice, but as an educator my criteria of measurement is the students we put into the field of professional television, working for major franchises and major universities," Akers said. "And we've had students come through here and do that."
One example is Andrew Kappes, who graduated in 2012. Kappes works as a play-by-play announcer for NKU and works for the Pittsburgh Pirates Triple-A team.
Eric Edens, who graduated in 2014, currently works for Old Dominion University running their live stadium and arena sports.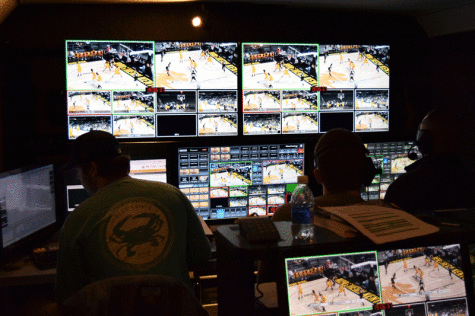 Daniel Powell is hoping to follow in their footsteps and break into the professional sports production field.
Powell became part of the crew through the EMB 397 class this semester and immediately became floor director for the crew.
"The first couple games were terrifying," Powell said. "But you have to take that fear and hold it back and keep going so you can do a good job."
In those times of fear, Powell looks to the experienced veterans Ringo and Long for guidance.
"I was in their position and I'm still learning too," Long said. "It's nice that they know me and can come up to me and ask for help. We all know that we are still learning and that helps us stay relaxed and have fun."
The student leadership from Ringo and Long, as well as guidance from Akers, continues to be a recipe for success for the production team, who look to keep their straight-A grade and produce quality coverage of NKU athletics.
"We will always be straight-A," Akers said. "We strive to be the best and our students push each other to continue to produce great games."