Jim Kelch: The Man Behind the Mic
If you're from Cincinnati or just listen to Reds baseball over the summer, as well as listen to NKU men's basketball games on the radio in the winter, you may hear a familiar voice.
Jim Kelch, a veteran sports broadcaster, is not only one of the voices of the Cincinnati Reds, but he is the voice of the Norse as well, serving as play-by-play broadcaster for the radio broadcasts of NKU men's basketball games.
Kelch, a Peoria, Illinois native, also serves as one of the voices for the Cincinnati Reds, the city's Major League Baseball team, alongside National Baseball Hall of Fame broadcaster Marty Brenneman, color analysts Jeff Brantley and Chris Welsh, as well as Thom Brenneman, Marty's son.
The beginning
Kelch's passion for sports and broadcasting began when he was around 12 or 13 years old.
"I used to listen to Bradley University, my alma mater, games on the radio and I loved the guy who did the games, his name was Mort Cantor," Kelch recalls. "During the summer, I'd listen to [St. Louis] Cardinals baseball with Jack Buck, my hero."
When playing baseball wasn't an option, Kelch turned to broadcasting.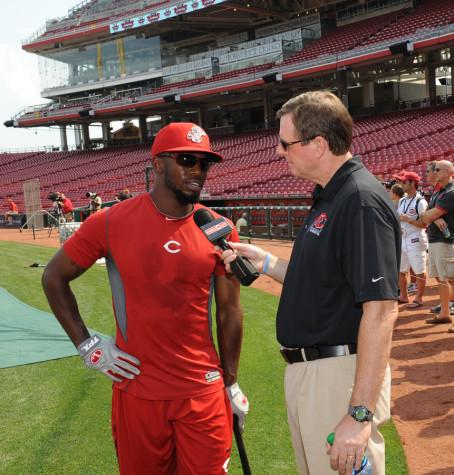 "I just thought 'I'd love to be a player', but was probably not going to work out, but wouldn't it be great to be able to go to the ballpark every day and talk about the game?," Kelch said.
While attending Bradley, he took courses geared to helping him secure a sports broadcasting job, even though there were "virtually no opportunities" during his college days. So, he took it upon himself to begin his career.
"I would go to Bradley games, talk to the SID (Sports Information Director), sit in an empty broadcast area in a game and do a tape recording," Kelch said. "During the summer, I'd go to various summer college team games around the area, take a tape recorder, and do the game, go back and listen, cringe at how bad it was, and think 'Is this what I really want to do? How am I going to get better?'."
After graduating from Bradley, Kelch couldn't find a sportscasting job. When asked what experience he had, he would say that he graduated from college with a degree in communication. They'd ask again and finally he'd say, "I don't have any."
Although sportscasting jobs were not made available to him, Kelch then accepted a position in sales at a larger AM station in Peoria that also included an FM pop station.
"I don't know anything about it," Kelch said. "This was a blessing in disguise because I learned the business of radio."
Everything that goes on the radio must be supported by sales, Kelch said, including the Norse Nation radio show, in which he is currently the host.
"If it's not supported by sales, it doesn't work," Kelch said.
While working at these stations as a sales representative, Kelch approached yet another station in town that carried high school sports. The station only had one main guy who called the games, but agreed to allow Kelch to tag along, shadow, and observe, all for free.
About halfway through the first season, he let Kelch on the air, doing color analysis. During the second season, Kelch began doing a little play-by-play. Like many people beginning in any business, the first time didn't go very well.
"The very first game I did play-by-play was terrible, terrible," Kelch said. "Things went so fast. It was a high school basketball game. I went home that night and I was so depressed because I thought 'this is what I had been working for, this is what I wanted to do, and I couldn't do it'."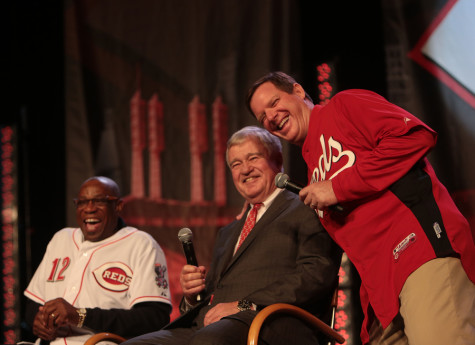 Minor league team comes to Peoria
After a couple years doing play-by-play for this smaller station, businessman Pete Vonachen, whose son went to high school with Kelch, bought the Peoria Suns, a Class-A minor league baseball team, and renamed them the Chiefs.
Kelch approached Vonachen, informing him that he wanted to call the Chiefs games. Vonachen told Kelch that if he could get the smaller station that Kelch worked at to air the games, Kelch could do play-by-play.
Following this exchange, Kelch was told by the station that if he wanted to call Chiefs games, he would have to quit his sales job at the larger station to work full-time at the smaller station In addition, he would have to sell the broadcast to advertisers.
That's just what he did and before long, he found himself calling Chiefs games in Peoria.
In the fall of 1986, there was an opening in Chattanooga for a Double-A baseball team. Since it was considered a level-up, Kelch applied for the job. Two weeks later, he officially got an offer and accepted the job.
"I had never lived away from Peoria," Kelch said. "I was 26 or 27 and packed up my wife and two kids and off we went to Chattanooga."
Kelch only spent two years in Chattanooga before moving up again.
The big break and move to Louisville
While at the winter baseball meetings in Atlanta in 1988, Kelch was informed of an opening in Louisville, Ky., calling Triple-A Louisville games. When he got home, he called Louisville to inform the team that he was interested.
Meanwhile, the Louisville position was always a broadcast-only position. However, they were changing it to a full-time position, where the person would not only call the games, but sell them as well. The owner told Kelch the if he didn't have sales experience, then don't apply. Thankfully for Kelch, he began and worked in sales.
"I had sales experience so I said 'yes, I have sales experience'," Kelch said, "He (the owner) said 'send me your stuff' and I sent him my stuff."
In mid-January 1989, Kelch accepted an offer to call the Louisville baseball games. He once again moved his wife, who was pregnant at the time, and two kids to Louisville, where Kelch stayed for 21 years. While in Louisville, he also did a little work for Louisville Cardinals games, as well as occasionally fill-in for the St. Louis Cardinals.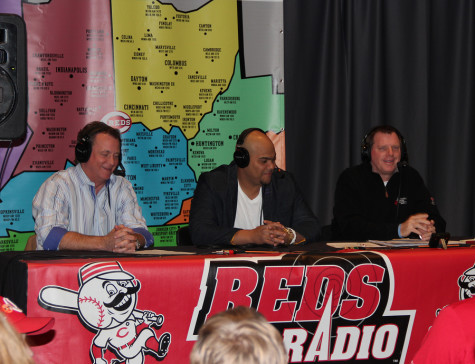 Reds call and dream comes true
Over 21 years later, Kelch found himself filling in on the Reds broadcasts, eventually being hired full-time after longtime Reds television George Grande announced his retirement.
"Marty [Brenneman] tells me to apply for the full-time job on TV," Kelch said. "So I apply, interview with the Reds and nothing comes of it right away."
Finally, while covering a game at Central Michigan University for the University of Louisville women's basketball game, Kelch got a call from Reds Chief Operating Officer Phil Castellini, offering him the full-time job.
"Are you kidding? This is what I've been working for for 25 years. Of course I'm interested," Kelch recalls saying.
Kelch aids D1 transition, comes to NKU
In December 2011, NKU announced they were transitioning into Division I intercollegiate athletics. With the transition, NKU added radio broadcasts to their men's basketball games.
Nelligan Sports produced the radio broadcasts for University of Louisville basketball when Kelch was a fill-in announcer. At the time, Nelligan also owned the radio broadcasts for NKU, so through that connection, Kelch was offered the play-by-play announcer position for NKU athletics.
Once hired, Kelch was forced to put restrictions on his hiring at NKU to comply with his Reds contract. Kelch must attend Reds events such as RedsFest, a festival for Reds fans to celebrate the upcoming season, and the Winter Reds Caravan, a bus tour where players, coaches, and announcers travel "Reds Country" and host events for fans that don't live in Cincinnati.
"I said 'if that's okay, I'll do it,'" Kelch said. "They said we'll try it out for one year and see how it goes."
Kelch has been with NKU since 2012, but leaves right after the season is over to travel to Reds spring training in Goodyear, Arizona.
Despite being hurt and kicked around when finding a job in the field of sports broadcasting, Kelch leaves Northern Kentucky for Arizona with a little advice for those interested in his niche field.
"First, you have to believe in yourself that you can do it," Kelch said. "You're gonna fail. You're going to sound bad. But you have to battle through it and find out why you sound the way you sound. You have to correct that. You've got to work hard at it. It's hard work. It's not easy. You've got to be willing to work hard and fail, get back up, and do it again."
Kelch went from sounding horrible calling high school sports games to calling 3,500 games in minor and major league baseball. He knows hard work and he knows success. Take it from Kelch, the man behind the mic for the Norse.