Women's basketball in second with win over Stetson
With second place in the Atlantic Sun Conference on the line, the NKU women's basketball took advantage of hot shooting hands by Christine Roush and Melody Doss to lead the Norse to a 68-62 win over second place Stetson on Thursday night in front of 1,130 fans at The Bank of Kentucky Center.
"We certainly are excited to pull out such a big win against such a great team," NKU Head Coach Dawn Plitzuweit said. "We feel very fortunate to beat a very good team at home. I really give our kids a lot of credit because they really battled and really got after it and I thought it's a great opportunity for us to learn and get better."
After point totals of 28 and 22 in the last two games, Roush followed up those performances with 24 points and 12 rebounds, while going 5-for-12 from behind the three-point arc.
"I feel like I've been open on a lot of my threes and my threes have been hitting lately," Roush said. "I've been giving myself a lot of confidence and a lot of girls on the team want me to shoot, so I'm going out there to score, but if I'm not making anything, I know my teammates are going to back me up and make their shots."
"I think Christine is playing within the offense," Plitzuweit said. "Her teammates are creating very good shots for her. Christine is taking and using the opportunities to the best of her abilities and I believe Christine is playing very sound basketball."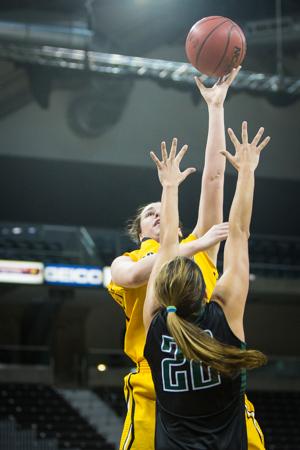 Melody Doss added 24 points as well, going 3-for-7 from beyond the three-point arc.
The game began with the teams trading baskets for the first 10 minutes of the first half until a Roush three-pointer began an 11-0 run for the Norse, which saw them up 29-14 at the 6:21 mark.
Another run, this one of 6-0, ended the first half with the Norse up 37-19 at halftime, where Roush was leading NKU scorers with 18 points.
After the half, the Norse picked up where they left off, going on an 11-2 run to begin the second half to put them up 48-21 with 16:48 left in the game.
As the second half went on, however, Stetson kept chipping away at the NKU lead, going on a 7-0 run halfway through the second half, cutting the Norse lead to as close as four with a minute left in the game.
In the end, the Norse proved too strong for Stetson, winning a close game to position them well for a run in the conference.
The win improves the Norse's record to 13-8 and 4-2 in the Atlantic Sun Conference. The Norse are now tied with Stetson for second place in the conference standings.
"We don't have a lot of time to rest," Plitzuweit said. "Our key now is to get better."
The Norse will next face first place Florida Gulf Coast on Saturday at 7:00 P.M. at The Bank of Kentucky Center.
Roush said the team is "excited" after beating Stetson and having momentum going into the Florida Gulf Coast game.
"Ever since we've been in the conference, we've never beat Stetson," Roush said. "To come up with this much energy for this game, I know we'll come out with a lot of energy playing FGCU on Saturday."