Norse rebound from Thursday loss with win over Jacksonville
On Saturday afternoon, the NKU men's basketball team faced the Jacksonville Dolphins. The Norse bounced back from their Thursday loss to North Florida to knock off Jacksonville 81-59.
The Norse started early with the 3-point shots. Junior Tyler White knocked down a 3-point shot clock buzzer beater with 19:01 left in the first half. On the next possession sophomore Deontae Cole knocked down his own 3-point shot as the Norse took an early 6-0 lead to start the game.
Jacksonville followed with their own 3-point shot as well as a couple of pull-up jump shots and a layup to tie the game at eight.
After a strong lay-up by freshman Tyler Persons and two strong lay-ups over two defenders by redshirt junior Jalen Billups, the Norse took a 16-12 lead.
Jalen Billups added a fadeaway to his game as he knocked down a long two-point shot with 9:30 left in the first half. Jacksonville knocked down their own shots as the Norse continue to stay up 24-19.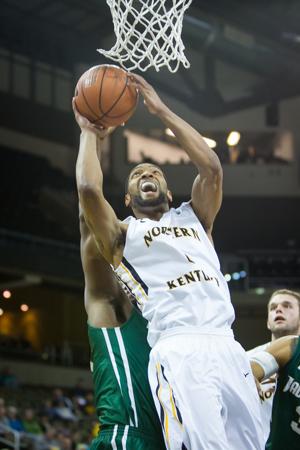 White drained another 3-pointer over his defender to start moving the momentum back to the Norse. With a steal and strong layup by junior Todd Johnson the Norse improve their lead to 29-22.
The Norse forced another fast break as redshirt senior Chad Jackson went up strong, but was fouled. With making both free throws and another 3-pointer by Cole the Norse improved their lead to 34-22 with 3:10 left in the first half.
"I'm just trying to be aggressive and take shots when they're available and just play hard," Jackson explained."I think the effort and energy was just contagious and was really there tonight."
Cole knocked down another 3-point basket from the corner and was fouled on the play. Billups got the ball on the next possession and went strong in the post to add another two points.With only a second, left Persons hit a fadeaway jumper as the Norse went into the half with a 43-32  lead.
NKU came out strong to start the second half. After a missed shot, the Norse got three offensive rebounds in one possession when Chad Jackson scored off the final rebound.. After a foul, he made it a three-point play at the line.
Jacksonville came out of the break with nice plays of their own knocking down a couple jump shots to decrease the Norse's lead to 46-36. Soon after, Persons put easy layup on a fast break play.
Junior Todd Johnson knocked down a corner 3-pointer and just as Jacksonville passed half-court, Johnson came away with a steal, which resulted in the Dolphins committing an intentional foul to stop him from scoring. Johnson made both free throws to give the Norse a 57-42 lead with 10:09 left in the game.
"Today when we were watching film we noticed the size of their guard," NKU Head Coach Dave Bezold said."Bigger point guards don't like smaller guards guarding them; they can't stand it and we were hoping that was the case. Todd got a lot of confidence and I think that was a big factor for us today."
Billups put a highlight dunk off a missed layup by C. Jackson to get the crowd roared up. On the next possession, Billups went up strong again getting the shot to go in while getting fouled in the process.
"In practice we work on post moves and slow them down and I think that helps me out a lot. Just relaxing and reading what the defense gives me and making a play," Billups explained.
After the missed free throw by Billups, Jacksonville came down court making a 3-pointer from the top of the key. On their next possession they added two free throws decreasing the Norse lead to 61-51 with 6:45 left in the game.
The Norse had four in double figures: Persons (18), Billups (17) C. Jackson (15), and White (13).
The win improves the Norse to a 9-11 (3-2) record. Their next game is on Thursday at Stetson and they return home on Saturday, Feb. 27 against Lipscomb.