Norse women battle for close win over USC Upstate
In one of the hardest fought games of the season, the NKU women's basketball defeated the USC Upstate Spartans in a nail-biter by a score of 77-74 on Saturday night in front of 1,163 fans at The Bank of Kentucky Center.
"I think this is a very big win for our team and our program," NKU Head Coach Dawn Plitzuweit said. "We were fortunate down the stretch to make one more play and come out on top. I have a lot of confidence in our players because I see them every day and they are aggressive and they go after it."
The Norse had five players in double-figures, with Rianna Gayheart leading all NKU scorers with 13 points and four assists, while Christine Roush finished with 12 points and three assists.
Nine of Roush's 12 points came on three-pointers, including two late in the game that brought NKU within one and then tie, respectively.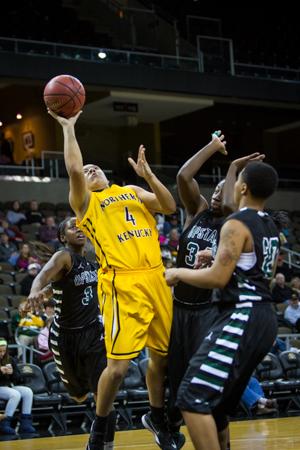 "I know when I'm open, I need to take the shot," Roush said. "I knew I needed to come in there and make them and I did."
"I think our spacing and our movement gave us some good looks and Christine took them," Plitzuweit said.
NKU shot 56.3 percent (9-16) from beyond the three-point arc. Along with Roush, Melody Doss finished 2-4 from beyond the arc and Kasey Uetrecht was 2-3.
"You can name every player that was in the game and played and made a lot of good things happen for us," Plitzuweit said. "Tonight, they showed great toughness and a lot of trust in coming back and being successful."
The Norse started off on fire, taking an early 8-2 lead to begin the game after a Roush three-pointer and a pair of layups by Gayheart and Kaitlyn Gerrety.
The lead was quickly squandered when Upstate went on an 11-0 run to take a 13-8 lead over the Norse early in the first half.
This was only the beginning of what would prove to be a close game, which included 10 lead changes throughout the 40-minute matchup.
Following the Spartans' 11-0 run, NKU went on a 10-1 run of its own to take back a four-point lead.
The largest lead would see the Norse take an 11-point lead with 6:33 left in the first half. The Spartans would then chip away at that and eventually take back the lead in the second half, when neither team led by more than six.
The win improved the Norse's record to 11-7 overall, and 2-1 in Atlantic Sun play.
Plitzuweit says her team is continuing to get better as the season goes on.
"We're seeing signs of areas where we are improving and that's really a good sign for us moving forward," Plitzuweit said.
Following a pair of away games against North Florida and Jacksonville, the Norse will return home on Jan. 29 to face Stetson at The Bank of Kentucky Center at 7:00 P.M.