Doss, Davis lead NKU to win over Georgetown
The NKU women's basketball team ended non-conference play with a 78-57 win over NAIA-affiliated Georgetown (Ky.) in front of 1,088 fans at The Bank of Kentucky Center on Tuesday night.
Melody Doss led all NKU scorers with 22 points and Shar'Rae Davis added a season-high 14 points.
"I think this is a very good win," NKU Head Coach Dawn Plitzuweit said. "I'm really excited for our team to end the non-conference stretch and now excited to get into the conference season."
The win improves the Norse's record to 9-6 going into Atlantic Sun Conference play in their first year of conference postseason eligibility. The team has also won five of the last six games.
Plitzuweit believes momentum is on their side going into conference play.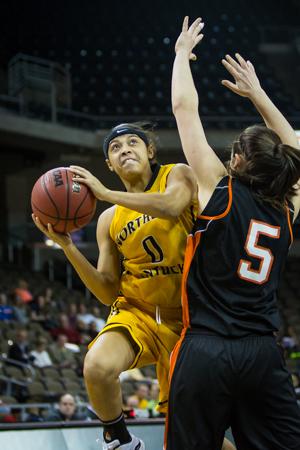 "I think our players have the ability to go into the conference and play with confidence," Plitzuweit said. "This is what you build for. This is what you work for. I think that things are starting to come together well for us."
The game started slow, with the teams exchanging leads for much of the first quarter of the game until a three-pointer by Doss began a 7-0 run which gave NKU a lead they would not lose.
Doss and company would continue to extend their lead throughout the game, with their largest lead of the first half coming when they led by 18 at 36-18, then again extending their largest lead to 22 when a layup by Davis ended the game at 78-57.
Along with her 22 points, Doss would finish the game 8-for-15 from the field and 4-for-6 from beyond the three-point line.
"I think the team did a great job of getting me the ball," Doss said. "I think we did a great job of getting our offense moving and moving well. We got a steals on defense which led to offense."
Overall, the team shot 44 percent from the field, an improvement from Saturday's 34.7 percent in its loss to Wright State.
"I think it was good for our kids to get into some game action and shoot with confidence, and I think they did that," Plitzuweit said. "I thought we had some kids who came off the bench and gave us some good minutes and some good energy."
The Norse will play their first Atlantic Sun game of the year on Saturday when they face Lipscomb in Nashville, Tenn. at 5:00 p.m. They will return home on Jan. 17 when the USC-Upstate Spartans visit The Bank of Kentucky Center at 7:00 P.M.