Norse women end 2014 with win over IUPUI
The NKU women's basketball team extended its winning streak to four on Tuesday night by defeating the Indiana University Purdue University Indianapolis (IUPUI) Jaguars by a score of 57-43 in front of 1,283 fans at The Bank of Kentucky Center.
"I think that was a very hard-fought battle for our kids," NKU Head Coach Dawn Plitzuweit said. "I'm very proud of their effort. I think our team did an outstanding job defensively, and offensively took care of the ball."
NKU shot 32.7 percent from the floor and 31.3 percent from beyond the three-point line.
"I think our kids are finding a way to be successful," Plitzuweit said. "Good thing for us is I think we are getting a lot of quality shots off."
Melody Doss led all NKU players in scoring with 15 points. Christine Roush contributed 11 points for the Norse.
"I think us as a team did really well," Doss said. "The biggest thing I believe was coming out strong and having the confidence in believing we can run with them."
Even with the low scoring affair, NKU led the entire game. The closest the Jaguars came to taking the lead was late in the first half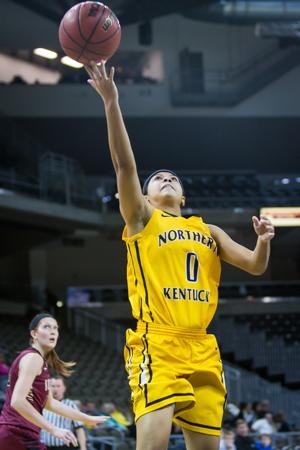 after a 7-0 run got them within one point of the Norse at 15-14.
NKU got out to a large lead in the second half when Faith Sanders' layup gave the Norse a comfortable 13-point lead with eight minutes left in the game.
Momentum started to shift IUPUI's way after that.
After IUPUI's Kelsi Byrd was fouled on a layup, the free throw was rebounded by the Jaguars and Martha Burse put it back in to cut NKU's lead to 44-35.
In the end, NKU's defensive was too strong for the Jaguars, as NKU only allowed eight points in the final five minutes to pull away with the 12-point win.
The Jaguars were led by Shaquira Scott with 10 points and Akilah Sims with eight points.
The win improved NKU's season record to 8-5, the best record after 13 games since reclassifying to Division I.
"It's important for us to face good teams and find ways to be our best," Plitzuweit said. "That's really what we focus on."
NKU will open the 2015 portion of its schedule on Saturday when they take on Wright State at 1:00 p.m at The Bank of Kentucky Center.