Persons, Monaco lead NKU to win over Idaho
Tayler Persons scored 23 points and Anthony Monaco added 17 as the NKU men's basketball team defeated the Idaho Vandals by a score of 81-68 at the Bank of Kentucky Center on Monday night.
Earlier in the day, Persons was named the Atlantic Sun Newcomer Player of the Week and the Mid-Major Madness Freshman of the Week for his performances last week against Chattanooga and Morehead State, the former where he scored 30 points.
"I'm just blessed to have that opportunity to play," Persons said. "I'm very humbled by the award."
The win was the Norse's second over the Vandals; the first coming on Nov. 29 in Idaho where the Norse won 79-74.
It took a little over three minutes before the first points of the game were scored, when Idaho's Paulin Mpawe scored on a layup to put the Vandals in front. Fourteen seconds later, Monaco made his first three-point basket of the night to give NKU an early 3-2 lead.
Monaco finished the game 4-for-7 from beyond the three-point line.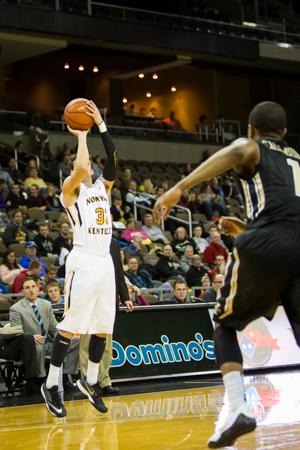 The back-and-forth lead changes would be a theme for the night. There were nine lead changes throughout the game, the last one being with 15:43 left in the game when Tyler White's three-point basket, which began an 8-0 run, gaving NKU a lead they would not squander the rest of the game.
The Norse finished with four players in double-figures in points. Along with Persons and Monaco, White finished with 12 points and Jalen Billups finished with 10 points.
"I thought it was a good game to watch on both sides," Head Coach Dave Bezold said. "We had big guys step up and make plays tonight."
With the win, the Norse sit an even 6-6 record heading into the holiday break. The Norse return to action on Dec. 27 when they face their third Big 10 Conference opponent in Northwestern.