Norse struggle against UT-Martin
The Northern Kentucky men's basketball struggled to score and take advantage of turnovers in their game against UT-Martin on Wednesday night, resulting in the Norse falling short of its fourth win of the season, losing to the Skyhawks by a score of 71-56 in front of 1,272 fans at The Bank of Kentucky Center.
NKU was unable to find a groove on offense, going on an eight-minute run without scoring in the first half, which allowed UT-Martin to go on a 18 point run and taking a lead that they would not lose.
NKU was up 16-14 at the 10:33 mark in the first half on a three-point basket by Tyler White. Before they knew it, they were down 32-16 until Tayler Persons scored a layup to break the run.
"They're (UT-Martin) good," NKU Head Coach Dave Bezold said. "They're really good. They've got some talented guys."
Bezold said NKU got some wide open shots, but were just not hitting them.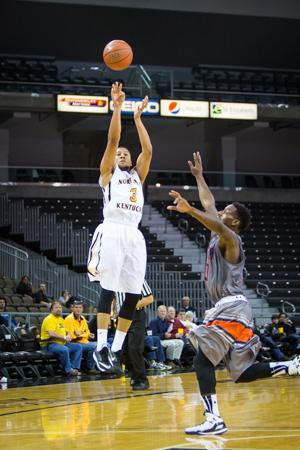 "We weren't able to manage the game from that point," Bezold said.
UT-Martin finished the game shooting 52.9 percent from the field, including 61.9 percent in the second half. NKU finished the game having shot only 42 percent from the field, including an abysmal 36 percent in the first half.
Persons led NKU with 15 points and shot 6-for-13 from the field. White finished with 12 points for the Norse.
"It's not enough," Persons said. "I played okay. I should've played better to help us win."
Guard Marshun Newell led UT-Martin with his first double-double of the year (15 points, 11 rebounds) while guard Alex Anderson also had 15 points for the Skyhawks.
The loss sent the Norse's record to 3-4 on the season, with a big match-up coming up on Sunday against 16th-ranked West Virginia, led by former University of Cincinnati Head Coach Bob Huggins.
"We'll come back with a tremendous focus on Friday," Bezold said. "Our guys will be ready this time. We'll give tremendous effort."
West Virginia will be the third ranked team NKU will play this year.