Hot Seat with Macy Hamblin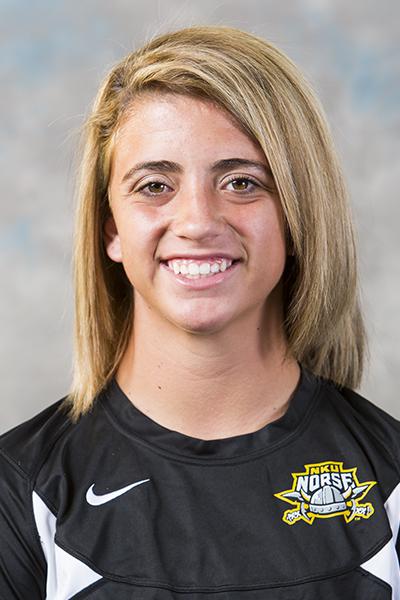 Sport: Soccer
Year: Freshman
Major: Special Education
Macy Hamblin has appeared in 14 games in her freshman season and picked up six goals for the Norse. But what else do you know about her?
Q: What is your favorite before game meal?
A: I'd have to say salad, pasta and bread sticks.
Q: Do you have any sports related superstitions?
A: If I had one it'd probably be that I have to pray before every game. I feel like if I don't get a pre-game prayer I won't play as well or my team won't play as well.
Q: What would be your best achievement to date?
A: My best achievement would probably be making All-American in high school.
Q: What are you most looking forward to the rest of this season?
A: I think what I'm most looking forward to is probably winning against Lipscomb today*, that way we can qualify for the A-Sun tournament because it's the first time in quite a long time that we've been able to accomplish that goal.
Q: What is the #1 song played on your iPod?
A: That's a hard one. It'd probably be "Amazed," by Lonestar.
Q: Who is your celebrity crush?
A: If I had to limit it to one, it'd probably be Patrick Swayze even though he is deceased now, but I really like Mark Wahlberg.
Q: If you won the lottery, what is the first thing you would do?
A: The first thing I would do would probably be to get a huge nice house for my family that way they would have no struggles or worries for the rest of their life.
Q: What scares you the most? Why?
A: I think what scares me the most is that knowing that one day all of this [soccer and school] could be taken away, and knowing that I need to make the most while all of this is still in front of me.
Q: What is your favorite flavor of ice cream?
A: My favorite flavor of ice cream is easily chocolate chip.
Q: What is your dream vacation destination?
A: Well I went to the Bahamas once and that was probably by far one of my favorite vacations that I've ever been on.
Q: What other sport do you wish you were equally as good at?
A: I think it would be really neat to be good at speed skating. That would be really awesome.
Q: Do you have a nickname?
A: Um, my teammates just call me Mac.
Q: What is your favorite TV show or movie?
A: My favorite TV show would have to be "Walking Dead," and my favorite movie is probably "The Fault in Our Stars."
Q: What is your favorite holiday? Why?
A: My favorite holiday is Christmas. It's my favorite holiday because my family always gets together and it's like a huge deal, we all open presents in our pajamas and it's like a little ritual every year.
Q: What are your hobbies outside of soccer?
A: My hobbies outside of soccer would be hanging out with my friends and family and listening to music.
Q: You all are looking at post-season play, so how does that feel for you and the team?
A: Well for us, it's super exciting because I know that a couple of our seniors experienced it once before but it's been way over do, so I think for me personally, not only is it exciting as a freshman and it being my first time to ever experience it, but I'd also like for our seniors to experience it again before they leave.
Q: You've had a pretty exciting freshman season despite trouble with injuries, so how does that feel?
A: For me it's really exciting because it's not easy, but once you're here you realize what it's what you want to do or not, and it's definitely challenging. But I think what I like most is seeing that I can compete at this level and having the girls support to help you ease the process of becoming a college athlete.
*Since the time of this interview, the NKU women's soccer team have won the first round of the Atlantic Sun Conference Championships against North Florida and moved to the semifinals where they will play Florida Gulf Coast on Friday Nov. 7, 2014.