Volleyball sweeps Stetson at home
NKU's volleyball team took on Stetson University for the second time this season on Saturday, sweeping them in a quick three set match, winning 3-0 (25-18, 25-13, 25-23).
The match was quite the turnaround from their 3-2 loss Friday night against Florida Gulf Coast University (24-26,23-25,25-23,25-25,13-15).
The game also proved to be different than the matchup earlier in the season where Stetson swept NKU 3-0.
"It was nice to come back and respond especially after last night's match," Liz Hart, head volleyball coach, said. "It was good to see the girls respond, play aggressive."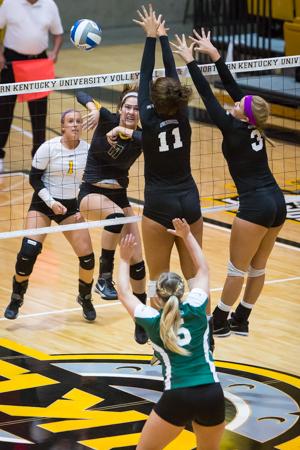 NKU started off the first two sets strong, picking them up 25-18 and 25-13 respectively.
The third set proved to be the most challenging for NKU as they struggled to maintain the lead throughout. However, NKU would be able to pick up the final set of the day 25-23.
"I think that they kind of killed us when we were down at Stetson, so we definitely kind of wanted revenge," Mel Stewart said after the game. "I think that we were a lot more crisp and it just looked a lot better, and we needed to play better"
NKU would close the game with a hitting percentage of .306.
Jenna Ruble lead the team with 13 kills and two blocks, while Keely Creamer had 10 kills and fourth blocks. Stewart recorded 17 digs on the day.
With the win, NKU moves to 16-8 overall and 5-5 within the Atlantic Sun Conference.
The Norse next hit the road one last time for the season to take on Jacksonville and North Florida before returning home for their last two games Nov. 14 and 15.