Men's soccer pick up win, break five game slump
The NKU men's soccer team earned its third non-conference win of the season on Wednesday night with a 2-0 win over UNC-Asheville at the NKU Soccer Stadium.
The win improves the Norse's record to 3-7-4 on the season, also snapping a five game winless streak (four losses, one tie).
The Norse dominated time of possession for most of the game, accumulating 25 shots in total and 10 shots on goal. UNC-Asheville had five shots, with two shots on goal.
While the Norse had possession of the ball for most of the match, they missed multiple opportunities to score.
The first goal happened in the 34th minute by junior midfielder Ronald Moss, whose shot went past diving UNC-Asheville goalkeeper Dan Jackson. The shot was assisted by senior midfielder Cian McDonald and freshman forward Diego Martinez.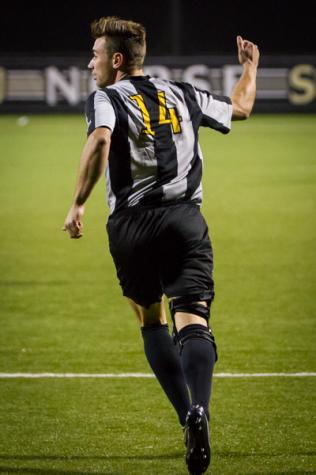 The goal was Moss' second on the season.
Though the Norse held the ball for the majority of the time, they failed to score again before the end of the half, sending the halftime score to 1-0 in favor of NKU.
The second half was much the same as the first half; NKU dominating possession while missing opportunities.
The Norse did, however, score again in the 74th minute on a shot by senior forward Caleb Eastham, his fourth on the season. The goal was assisted by junior defender Gavin Colton.
Less than a minute later, sophomore midfielder Alwin Komolong fought for a goal and shot a dribbler that went past Jackson, but was still saved by a UNC-Asheville defender.
Eastham said it was good for the team to break its slump.
"It's good to come out here and play like a team," Eastham said.
Head Coach John Basalyga was pleased with the performance of his team and the win.
"We've been struggling the last couple of weeks to pick up goals," Basalyga said. "It was good for the kids to come out and work hard in practice and realize what they've done in training actually does work in games."
The Norse will look to win their first Atlantic Sun Conference match on Saturday when they face USC-Upstate on Saturday in Spartanburg, South Carolina.