Norse find loss under rain
NKU's men's soccer team took on Marshall University at home Wednesday night under lights and rain. 
The game would end in regulation time with Marshall taking the win 2-1.
The game started off  quick for Marshall, who would have their first shot on goal in the second minute.
NKU's Yaw Addai would have two quick responses in the third and fourth minutes, but neither would produce anything for the Norse.
Both team's would trade shots evenly for the rest of the first have, however neither team would be able to turn them into anything and would go into halftime with the score 0-0.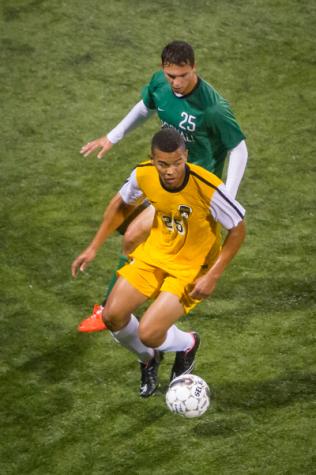 "Another tough one," NKU Head Coach John Basalyga said after the match. "Typical first half, we played with a little bit of conviction, but not a whole lot."
Marshall would start off the second half just as quickly as the first, with Daniel Jodah finding the back of the net in the 53rd minute to NKU's dismay. 
Marshall's second goal of the game would come off a header from Connor Marino in the 81st minute.
NKU would take many shots throughout the second half that would produce nothing for the Norse until Kobie Qualah found a late goal in the 88th minute.
"And to Kobe's credit, it got loose, he took a nice shot, and kept it on the ground, and deflected it," Basalyga said after the game.
With the loss, NKU moves to 2-5-5 on the season and remain 0-1-1 within the Atlantic Sun Conference.
"You know it's just one of those games where we finally have to put two halves together and find some combination, I mean that's our biggest problem all year long," Basalyga said.
The Norse turn to the road for their next conference game in Jacksonville this weekend before returning home Oct. 22 to take on UNC-Asheville.