Men's soccer takes first conference loss
NKU men's soccer had their first game in a week at home Saturday against Florida Gulf Coast University, losing 3-1.
The first half started off slow for both sides with each team having equal control of the ball.
FGCU would have two corner kicks early on, but weren't able to produce anything from either.
Christian Johnson had a shot on goal in the 26th minute off of a corner kick from Diego Martinez, but FGCU goalkeeper Nathan Ingham was able to block it.
The first goal came in the 37th minute for FGCU's Albert Ruiz, his first goal of the season.
NKU would have another look at the goal in the 38th minute off a header from Ian O'Reilly, however it would also be saved by Ingham.
Both teams would head to the locker rooms at half time with FGCU up 1-0.
The second half started out quick with a foul coming against NKU inside of the penalty box. FGCU's Henry Penagos would take, and make, the penalty kick, increasing the lead 2-0.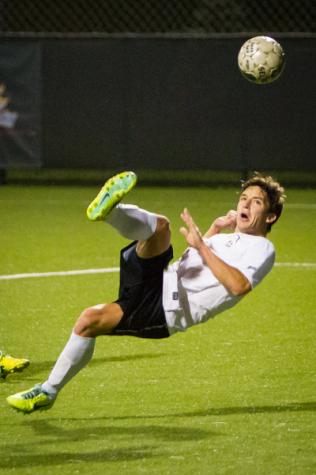 In the 52cd minute, a cluster in FGCU's goal would result in two shots on goal for NKU by Cian McDonald and Yaw Addai, but all three were blocked.
In the 56th minute FGCU's Rodrigo Saravia made the team's third and final goal of the game.
NKU Head Coach John Basalyga at this point would take A.J. Fleak out of the goal for the first time this season.
NKU would manage their only goal of the game in the 78th minute off of a shot from Cian McDonald. It was the team's first goal in over 300 minutes of playing time.
The game would end with FGCU taking the win 3-1. With the loss, NKU moves to 2-4-5 on the season and 0-1-1 in the Atlantic Sun Conference.
"Florida Gulf Coast is the best team we've seen all year," Basalyga said after the game. "They have a slow start, but they're very good on the ball … They move the ball well and they're very competitive and I appreciate the effort that the kids gave"
NKU's next game will come at home against Marshall on Wednesday, Oct. 15.