NKU volleyball battles for win against North Florida
NKU women's volleyball returned home Friday night to face North Florida after a six road game streak, producing four wins for the team.
NKU would win the match against UNF after a grueling battle 3-2.
NKU would start off the first set with Megan Wanstrath scoring the first point for the Norse.
Both teams would battle for the first set, however UNF wouldn't be able to take the lead at any point, and NKU would take the set 25-18.
The tables would turn the second set for UNF as they would easily dominate the set. NKU's hitting percentage would fall from .400 to .152 in the second set.
The third set would show no avail for the Norse, as they would go down 25-19, scoring the opening point, but never maintaining the lead thereafter.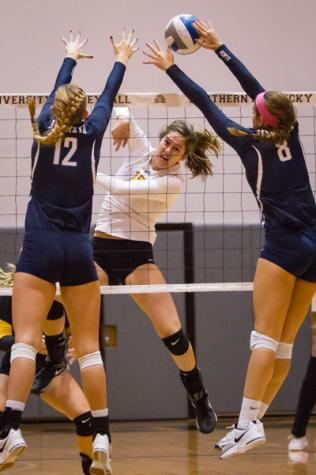 Luck would turn for the Norse in the fourth set though as Jenna Ruble would pick up five of her 11 kills for the night in the set. NKU picked up the fourth set, winning 25-23.
"We were definitely a little discouraged, but we took that and out our anger in the right mindset," Ruble said after the match.
NKU would continue their luck picking up the fifth set 15-12, with Jayden Julian leading the team with 18 kills for the night.
"The fourth and fifth set, something just changed in our mind as a team, our whole team, the demeanor, everything," Julian said. "We finally came together and said, 'Let's do it, no more messing around,' because all these teams in the A-Sun are very good."
NKU would close the night with a  team hitting percentage of .206, with Ruble having a .409 hitting percentage and Julian with .234.
"I thought we did really well," said Head Coach Elizabeth Hart, "Like I said, I think we've been handling or composure really well, but I felt like this is the first time we really finished out set four and five. Some of the kills might not have been pretty, but we actually gutted it out and finished."
NKU returns home tomorrow Oct. 11 to take on Jacksonville University at 1 p.m.