Norse women's soccer misses opportunities and lose to Jacksonville 1-0
The NKU women's soccer team lost their first game in conference play on Friday night as they were defeated by the Jacksonville Dolphins on a chilly night at the NKU Soccer Stadium in the Norse's second Atlantic Sun Conference matchup of the season.
The loss takes the Norse's record to 4-4-3 on the season, and 0-1-1in Atlantic Sun play.
The lone goal was scored in the 68th minute by Jacksonville forward Kaitlyn Bassett on a highly contested shot that found its way in the back of the net.
Otherwise, the match was a defensive matchup.
Both teams had multiple opportunities to score, but the each team's goalkeepers kept the score tied until Bassett's goal, as well as after.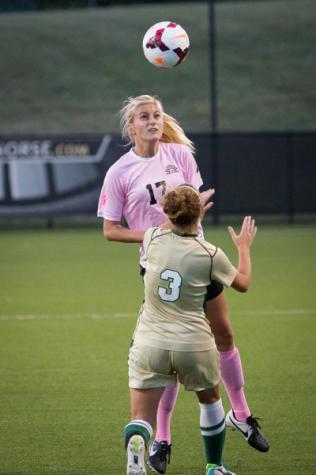 In the 14th minute, Norse sophomore midfielder and forward Aubrey Muench had a one-on-one situation, but the kick was blocked and saved by Jacksonville goalkeeper Sarah Sierra.
Moments later, the Norse had another one-on-one situation, this time with junior forward Kelsey Laumann, whose shot was also saved Sierra.
In the 29th minute, the Dolphins threatened for the first time when Julia Burton drove down the field in a one-on-one situation with Norse junior goalkeeper Tanner Ruberg, who came up with a save for the Norse.
The Dolphins threatened again when Bassett, 2013 Co-Conference Player of the Year, came face-to-face with Ruberg early in the second half, but Ruberg ultimately won by coming up with a Norse save to keep the score 0-0.
NKU missed multiple opportunities to score in the 58th minute when three straight Norse corner kicks were headed towards the goal, but all three were saved by Sierra.
NKU Head Coach Bob Sheehan credits Jacksonville's experience and strength for tonight's win against the Norse.
"Jacksonville is a very high-level team," Sheehan said,"I thought we competed and I thought it was a great college match."
The NKU women's soccer team will look for their first Atlantic Sun win on Sunday, Oct. 5 when they face North Florida at 12 p.m. at the NKU Soccer Stadium.