Loss comes in final minutes for women's soccer
NKU's women's soccer team faced Butler University Sept. 17, holding a one point lead until the final two minutes of the game, when Butler would score two goals, winning the game.
The first half would start off slow for both teams, with the first shot for NKU coming in the tenth minute by Aubrey Muench and was blocked by Butler goalie Jayne Heinrich.
Neither team would see much luck at a shot on goal until the 25th minute after a corner kick from NKU's Jaclyn Elmore.
Elmore sent the ball into the box on her corner kick, only for it to pop right back out to her, sending it in again a second time, Kelsey Laumann would get a touch on the ball before a header from Sami Rutowski would send the ball to the back of the net.
A corner kick by Butler in the 39th minute would be sent straight to NKU keeper Brooke Schocker, who would punt the ball out of the box.
The second half would begin in the same fashion as the first, with both teams struggling to make it within the 18 yard box.
"Last year we played Butler and they were an entirely different level," NKU Head Coach Bob Sheehan said.
However NKU would pick up three of their shots on goal in the second half, and Butler would pick up all four of their shots on goal.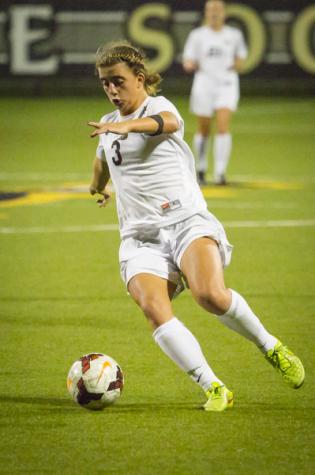 Macy Hamblin, returning from injuries, would have the Norse's three shots on goal in the second half. With promising looks, she would not be able to score.
Both teams would fail to connect with the back of the net until the final three seconds when Butler's Elise Kotsakis sent the ball in, forcing the game into a golden goal overtime.
Overtime wouldn't last long though as Kotsakis would send her second goal of the evening in, in the 92nd minute.
"Players are very disappointed," Sheehan said. "It really took away moral victory, we were playing to win."
The Lady Norse would end the night with a 2-1 loss, moving to 3-2-2.
The team face three games on the road, before returning home Oct. 3 to play Jacksonville University at 7 p.m.