Yellow cards give Norse third draw of season
NKU's men's soccer team returned home Sunday Sept. 14 to take on Indiana Purdue-Fort Wayne after losing Friday to Bowling Green State University.
NKU started off strong in the first half with three promising looks on the goal within the first five minutes of the game. However, it wouldn't be until the seventh minute that forward Caleb Eastham would score NKU's first and only goal of the game.
Both the Norse and the Mastodons wouldn't see much promise for a goal for the rest of the first half.
In the 32nd minute, forward Diego Martinez would receive a yellow card.
The second half would prove to be a totally different game with IPFW coming out strong.
"They played poorly in the second half," NKU Head Coach John Basalyga said. "IPFW came out the second half and these guys just stood around watching."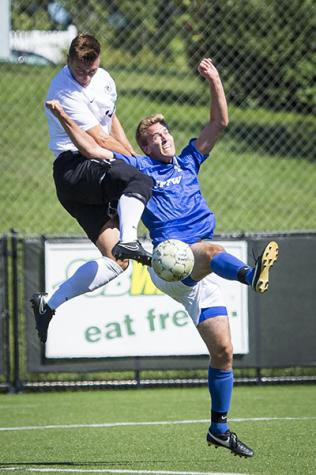 Corey Tom would score for IPFW in the 62nd minute tying the game 1-1.
Neither team would be able to get the ball to the back of the net for the rest of the game.
However, play would continue to be physical as Eastham, and defensive player Ian O'Reilly would both pick up yellow cards, and IPFW would pick up three yellow cards of their own.
After the game, there was remorse from NKU for scoring so early on in the game.
"I honestly wish I would've scored later," Eastham said.
Basalyga agreed that it didn't help the game, adding that they would be getting back to the basics this week in preparation for their next game.
NKU men's soccer will have a week off before traveling to Indianapolis to take on IUPUI before returning home to play Wright State, Tuesday, Sept. 23.