Hot Seat with J.J. Weber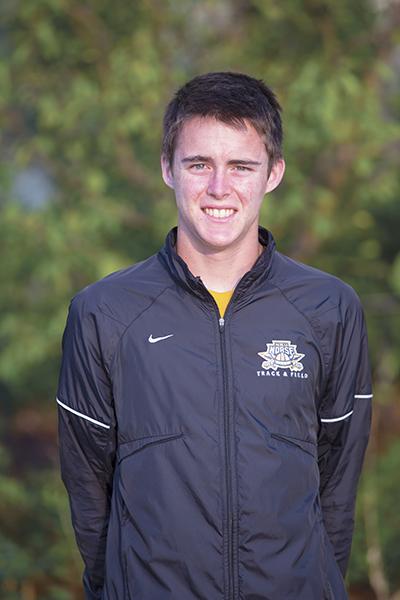 J.J. Weber is known as an amazing Cross Country and Track star but what else do you know about him? Get to know Weber a little better.
Sport: Cross Country / Track
Year: Senior
Major: Organizational Leadership
Q: What is your favorite before game meal?
A: I usually eat a bowl of oatmeal before a race.
Q: Do you have any sports related superstitions?
A: No, not really any superstitions. I guess I always retie my shoes twice before the race starts because you never want them to become untied during the race.
Q: What is your best achievement to date?
A: I would say my best achievement is winning the conference.
Q: How do you feel about winning the title of preseason Atlantic Sun Runner of the Year?
A: It was great to be named that but it just means I have to work harder. It does help me to keeping working harder and improving.
Q: What are you most looking forward to this season?
A: I really want our team to win the conference as a whole. We came in second last year and it would be great if we could come in first.
Q: What is the #1 song played on your IPod?
A: My favorite song would have to be Africa by Toto.
Q: Who is your celebrity crush?
A: I have to say Scarlett Johansson.
Q: If you won the lottery, what is the first thing you would do?
A: The first thing I would do would be buying NKU a track.
Q: What scares you the most? Why?
A: I am always scared of being hurt in a way that I could never run again. I don't know what I would do if I couldn't run around.
Q: What is your favorite flavor of ice cream?
A: My favorite flavor is Ben and Jerry's Cherry Garcia.
Q: What is your dream destination?
A: I would like to go out to Oregon. I've always just wanted to go there.
Q: What other sport do you wish you were equally as good at?
A: I wish I could be better at soccer and football.
Q: Do you have a nickname?
A: Not really but some people even shorten J.J. to just J.
Q: What are your pet peeves?
A: I guess when people click their pens in class, excessively.
Q: What is your favorite TV show?
A: My favorite TV show is Scrubs.
Q: What is your favorite holiday? Why?
A: Christmas is my favorite. It's time to spend with family and there are presents, presents are always good.