2014 women's volleyball players to watch this season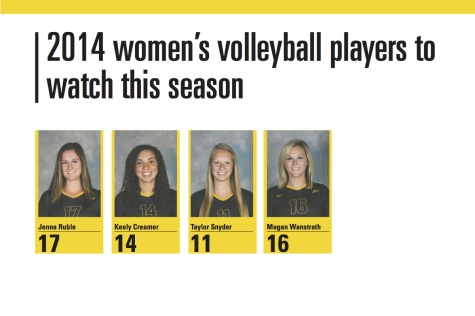 With three wins already under their belt, their own invitational tournament this weekend, and an exciting season in front of them, The Northerner sat down with women's volleyball Head Coach Elizabeth Hart to discuss her expectations for the season, and players she thinks will be key to a winning season. Here's what she had to say.
Hart started off quickly discussing that recent rule changes within the Atlantic Sun Conference have shaped her team's goals for the season.
"Well now that we can go to the A-Sun tournament, we obviously want to win the championship," Hart said. "For that we have to finish in the top 6. So our goal is to finish in the top 6, and then win the A-Sun tournament."
Focusing on conference games, Hart says that even though the conference is pretty even there are still teams to watch out for.
"Lipscomb is obviously going to be very strong, they're very strong every year, but they have a lot of upperclassmen that are really good players," Hart said. "Jacksonville went to the NCAA tournament, and they're returning a lot. So there are obviously some teams at the top of the conference that we're going to have to take down."
As far as players to watch this season, Hart went first to senior Jenna Ruble, who was voted to the A-Sun preseason all conference team.
"She was second team A-Sun all conference last year when we finished conference," Hart added.
Next, Hart mentioned sophomore setter Taylor Snyder, who made the all freshman team last year.
"She's very quick, and she finished second in assists last year in the conference as a redshirt freshman," Hart said. "So I anticipate her to be at the top statistically when it comes to assists and then hopefully we are off into the top with a high hitting percentage."
Also a member of the all freshman team last year, and a player to watch this season, is Keely Creamer.
"She's very very athletic, very quick, and very strong," Hart said. "So she's a lot of fun to watch play. I think a lot of people are really excited when they see her."
Hart also added that senior Megan Wanstrath will be playing a major role in the team's offense this year.
Ranked fourth in the preseason poll, Hart finds it flattering, saying the team is finally starting to earn respect among coaches in the conference.
"Even though it's only our third year in Division I, we're still a really strong team," Hart said. "So I think it's good that they're a little bit worried about us. It's good to see, but it just really matters at the end of the season."
The Lady Norse will take on Samford University Friday Sep. 5 in their first home game of the season as part of the Northern Kentucky Volleyball Invitational.