NKU men's soccer draw in first game against Cincinnati
The Norse men's soccer team took on the Cincinnati Bearcats Aug. 29 at home in a draw of 1-1.
The game would take off quick with a clear competition for control between the teams.
"They're very fast, very athletic," NKU Head Coach John Basalyga said. "And we countered that with some of our possessions. And if we could just stop their counters, which we did, it kind of slowed them down."
The first half would not be complete however without an interruption from Mother Nature herself.
In the 33rd minute, lightning would change the course of the game, chasing everyone from the stadium.
"We were playing well when the lightning came," Basalyga said. "In hindsight, we maybe could've scored before the half was over. I don't think it affected us."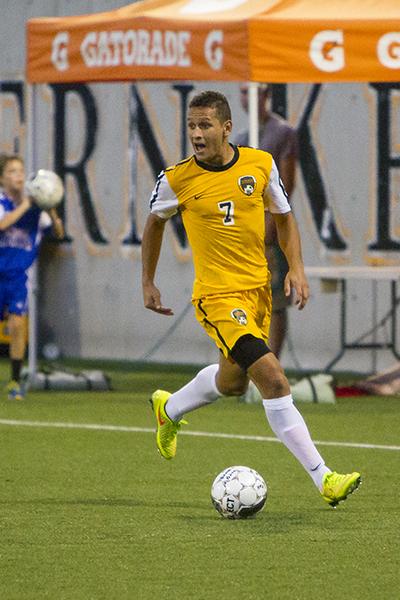 Lightning was fortunately only spotted once and 30 minutes later both teams would retake the field.
Both teams would compete with their all remaining scoreless until the half.
The second half would start of quick with midfielder Ronnie Moss, scoring in the 47th minute.
"It just gave us a little boost," Moss said. "I think we had some momentum going into it. It's always nice to go ahead too."
The Norse lead wouldn't hold for long however as the Bearcats would score off of a penalty kick shot by number 10, Ashani Walker.
The game would still be tied at the end of regulation, forcing the game into the first overtime.
Neither team would see a goal after ten minutes of extra time, even though both teams had promising looks at the goal.
After 110 minutes of regulation play the Norse and Bearcats were tied at 1-1 to kick of NKU's season.
"I think it was a great game. We got to play and a lot of fans were here," Yaw Addai, a midfielder for NKU, said. "I think we played really well. We were able to keep the ball moving, the intensity was great. Everyone wanted to play."
The NKU men's soccer team will return home, after three games on the road, September 14 to play against Indiana Purdue-Fort Wayne.