2014 soccer players to watch this season
Both the men and women's soccer teams at NKU are facing exciting schedules this season. Recently, we sat down with Coach Sheehan, the women's head coach, and Coach Basalyga, the men's head coach, to catch up with them and discuss who will be key to their seasons. Here's what they had to say.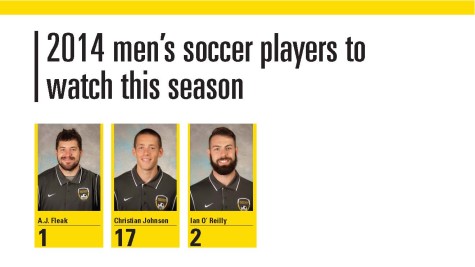 Finishing second in the conference for regular season play last year, the NKU men's soccer team still has much to work on this season.
"We hope when we step on the field that we have consistency every time we play," Head Coach John Basalyga said.
His main goal is to make sure that the team outworks their opponents every day. He believes that while many things are outside the team's influence, they can control their effort during games.
"If we have the effort, I'm happy," Basalyga said.
There are three players that really hold the team together this year according to Basalyga.
A.J. Fleak, a junior goalie, was unanimously voted the top ranked goalie in the conference. Coach Basalyga says that Fleak is hard worker and has kept the team in a lot of games.
"All good teams start with their defense," Basalyga said.
Senior defenders Ian O'Reilly and Christian Johnson, both contribute a lot to their defense, according to Basalyga.
"O'Reilly is a four-year starter and a key player for the team," Basalyga said. "Johnson is a very quick, athletic, hard-nosed kid."
Cian McDonald is another four-year starter, who has been a lot of help to the team. Coach Basalyga hopes that he finally comes out this year and does some more scoring.
Basalyga explains that in soccer, every lineup and game is different, so everyone has to be on their game.
"It's not just one or two people," said Basalyga. "Those three guys are the anchors and everyone around them needs to play with all their potential and above it."
According to Basalyga, the team has 11 home games this year. The team needs to be focused, since the past two years they were always on the road. They didn't play well last year at home, but Basalyga is very interested to see how the boys prepare themselves for games this year.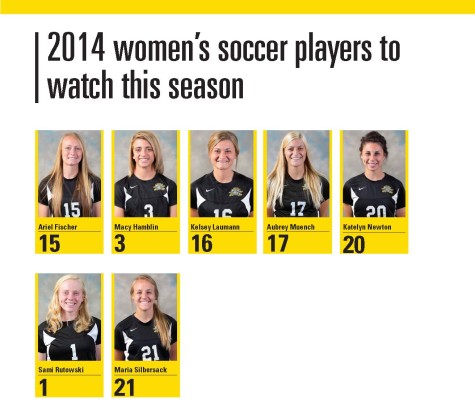 With many returning players for NKU's women's soccer team, fans can expect a lot from the team according to Head Coach Bob Sheehan.
This upcoming season even Sheehan has very high standards and expectations.
"We'd like to score some goals honestly," Sheehan said. "I really wants the fans to be able to watch a team that's exciting to watch."
Sheehan has a whole book of goals for the girls this year.
"I believe that taking care of themselves and taking one game at a time are very important for success this year," Sheehan said.
Sheehan says that there are many players that are good assets to the team.
Maria Silbersack is a junior center back who Sheehan describes to be very quick, strong on the tackle, and reads the game well.
"With her is Ariel Fischer who does a nice job with her physical strength," Sheehan said. "I believe these two are very nice in the center back."
In the midfield there is Katelyn Newton and Sami Rutowski.
Newton was the All-Atlantic Sun Freshman last year.
"She [Newton] is a high energy player and very passionate," Sheehan said. "The two work well together, especially with Rutowski being the hard worker she is."
Up front Sheehan says Macy Hamblin is a key player who has demonstrated so far this preseason that she can score goals.
"Macy makes a nice target in the middle," Sheehan said.
Alongside Hamblin are Kelsey Laumann and Aubrey Muench.
Laumann is coming back from an ACL surgery, so she missed last season.
Coach Sheehan added that Muench is continuing to work hard to improve technically.
"Both of those girls are pacy players for the outside," Sheehan claims.
Sheehan says that these are the players amongst many others that make strong contributions to the team.
Sheehan and his team will be working hard towards their goals for the season, hoping all of their work will pay off in the end.