Our 10 most read stories of 2016
It was an interesting year, NKU.
Campus saw instances of controversy at times, and our list reflects that. But our most read list also includes feature stories — from a former flight attendant's experience on 9/11 to the journey of a transgender student.
Here are our Top 10 stories of the year, determined by the number of times they were clicked on.
10) How a former flight attendant rose above the 9/11 attacks
Abby Anstead
Fifteen years ago, Shanda Harris' family didn't know if she was dead or alive. The then 27-year-old flight attendant was 20,000 feet in the air, working a Comair flight from Cincinnati to Charlotte, when an airplane smashed into the North Tower of the World Trade Center. With her back to the 30 passengers onboard, Harris took a phone call from a crew member.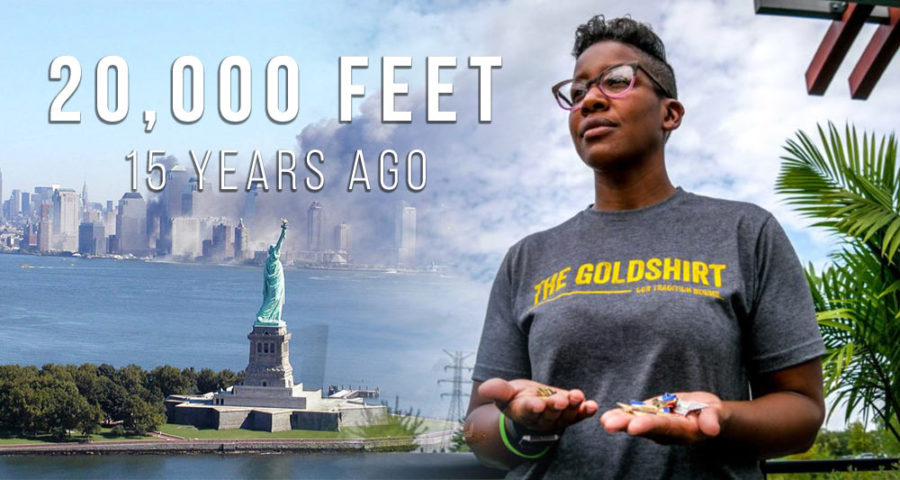 The now 42-year-old NKU student recalls what she heard through the phone. 'Shanda, we need to land immediately, or we're going to be shot out of the sky.' Her 11-year-old daughter, Kayla, flashed in her mind. She felt sick to her stomach as she thought about her family and the families of the 30 souls on board the aircraft.
Click here to read the full story
9) [Redacted]
8) GALLERY: Sororities welcome new sisters home
Madison Borland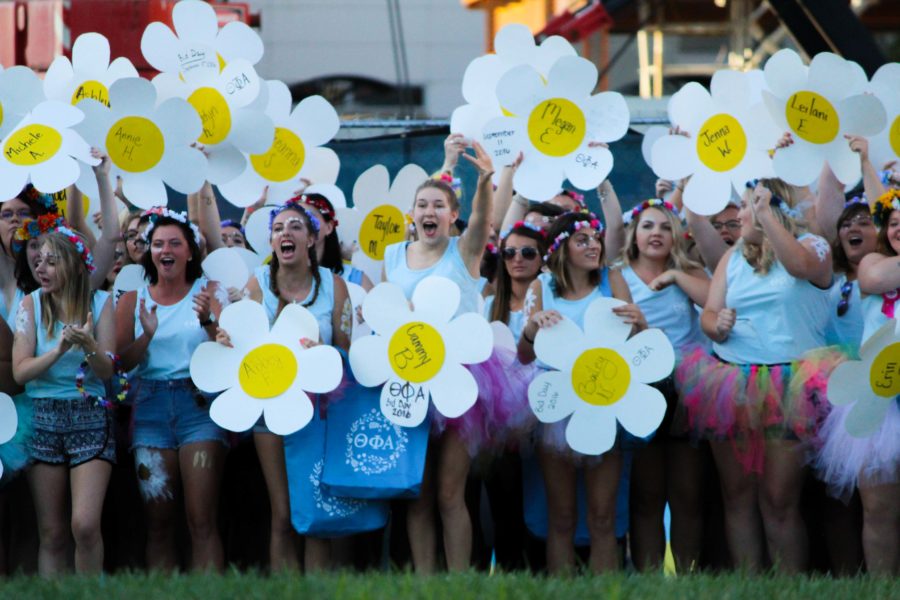 Bid Day 2016 featured hundreds of women flooding out of Griffin Hall and running to groups of sororities. With their bid card in hand, they found representatives of their sorority chapter and were greeted as the newest members of campus sororities.
After the initial run to their new homes, the sororities separate throughout campus to celebrate accordingly with their new initiates. Shirts are passed out and some sororities give name cards, hats, and even bags with their Greek letters written across the side.
With 19 chapters on campus and Phi Mu and Fiji being added this year, NKU averages to having about 12 percent of the student population involved in Greek organizations.
When the night came to a close the women gathered around their giant Greek letters, saying goodbye to their new sisters. Their new letters worn proudly across their chests, but the most important article they carried is the small envelope that brought 280 women to their new homes.
Click here to read the full story
7) NKU seeks gag order in sexual assault lawsuit
Abby Anstead
Northern Kentucky University lawyers filed a motion in August to ask for a gag order in the ongoing federal lawsuit involving a female student, who says the university mishandled her sexual assault case. The motion is the latest in the lawsuit involving a female student, identified as Jane Doe in the suit, who said she was raped in 2013 by a fellow student in her dorm room. Doe alleges the university did not protect her from her alleged attacker and did not enforce his sanctions. But Judge William O. Bertlesman rejected the motion on Oct. 18, denying the sealing of court documents in the suit.
Click here to read the full story
6) NKU Graffiti Stairwell: Expression or vandalism?  
Video by Alec Reynolds, Kyle Willard, Lexie Vogt
"Love who you ARE" scribbled in purple spray paint, a red and orange-eyed creature and colorful scribbles coat the walls, rails and stairs of NKU's "graffiti stairwell." Located in the School of the Arts building, many across campus have left their mark over the years.
But is this form of art legal?
One student says it's a form of expression, while a professor says it's vandalism. What's your stance?
5) Gaffin: 'No elevated danger on campus' after rape
Matt Sexton
After a campus-wide email was sent out notifying students of a rape on campus Oct. 10, then-interim NKU Police Chief John Gaffin stressed there was no widespread danger on campus.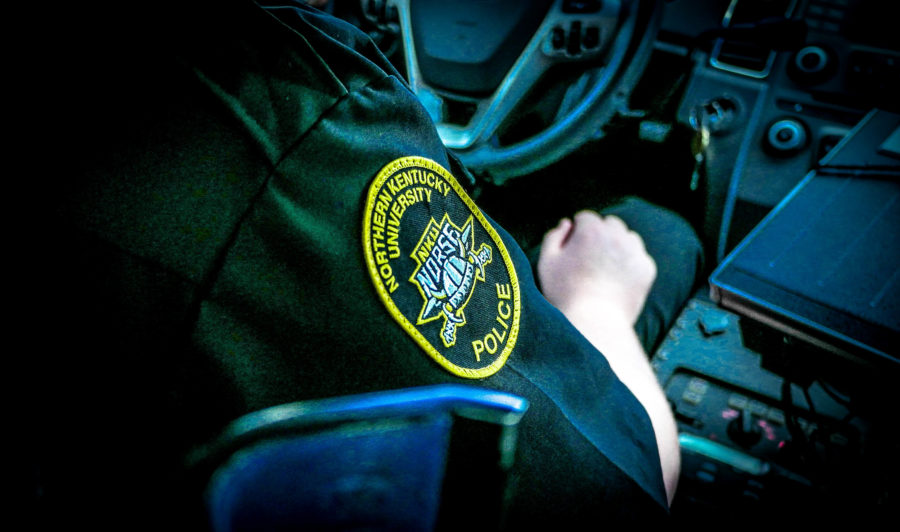 Alec Reynolds
According to the email, the incident occurred between 1 and 4 a.m. Oct. 10 at the Woodcrest Apartments. The suspect was described to NKU Police as a male potentially residing in University Suites. While there was no elevated risk on campus following the event, Gaffin and Amanda Nageleisen, university spokesperson, reminded students to be vigilant and look out for the safety of their fellow classmates. "People can call us around the clock, not just for reporting a crime but if something makes them feel uncomfortable, looks suspicious or if they want an escort," Gaffin said. "So we're here all the time, we're always available and we want people feeling comfortable coming to us."
Click here to read the full story
4) Pro-Life display vandalized
Abby Anstead, Mackenzie Manley
When Cecillia Knox placed 260 white crosses on campus to draw attention to the pro-life movement,  she expected people to react in different ways.  But, she didn't expect the display to be vandalized. Crosses, each representing 10 babies that die by abortion each day, were pulled out of the ground along with torn signs. Knox, vice president of Northern Right to Life, was aided by her friend Michael Bailey in repairing the damage.
Provided by Hannah Bockweg
The incident, which occurred on Oct. 26 wasn't the first time the Northern Right to Life's annual pro-life display has been tampered with. A similar incident occurred in 2013 in regards to the organization's display.
Click here to read the full story
3) NKU student said 4 basketball players involved in her assault
Christopher Decker
On August 24th, news broke that four NKU basketball players, including star point guard Lavone Holland, were cited in a police report that was filed by a female student. The female student claimed the four players pushed her from behind getting on a bus, grabbed her breast, and then repeatedly punched her causing broken ribs and bruising. The incident occurred at the Thompson House in Newport on March 19 during a Tau Kappa Epsilon fraternity party. No charges were filed because she told police she "fears seeking criminal charges will have repercussions due to all four suspects are on the Northern Kentucky Men's Basketball team." No charges have been pursued by the accuser.
2) What do you think of Victor's new look?
Christopher Decker
The NKU athletic department attempted to finish the final piece of their rebranding in October, unveiling a new mascot to the university. The new Victor E. Viking was made to look more friendly and less intimidating to the market outside of the NKU student body. 
The mascot was not well received amongst the student body and many alum, sparking outrage on social media and on campus. SGA President Will Weber was frustrated with the lack of communication between the students and the athletic department as well as alumni and the athletic department. The frustration forced the athletic department to take a second look at the mascot and as a result, led to a community wide survey to decide the fate of the new mascot. In the end, the community elected to keep the body of the new Victor, but wanted the old Victor's head. The full new suit will be used starting next year.

Click here to read the full story
1) Student-led demonstration addresses 'Welcome White Week' flier
Abby Anstead, Cole Grecco, Alec Reynolds
…………………………… 
At least fifty students stood together in a circle. Hand-in-hand, they held their arms up towards the sky and chanted:  
"We will not be guided by fear or defeat."
"We will avoid the pitfalls."
"And we will beat the odds that are against us."
Click here to read the full story
A student-led demonstration was held in September in response to an unauthorized "Welcome White Week" flier that someone hung beside a "Welcome Black Week" poster in the Student Union.