Trumped: Donald J. Trump declared president-elect in stunning upset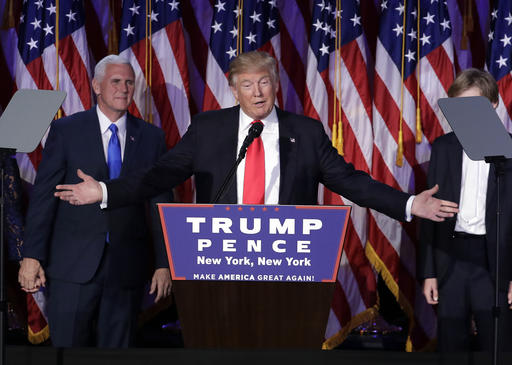 NEW YORK  — Donald Trump was elected the 45th president of the United States, upsetting Democrat Hillary Clinton after winning Wisconsin's 10 electoral votes, pushing him over the 270 vote threshold, The Associated Press reported.
Though he has never held a position in government, the Republican nominee took the title at 2:29 a.m. Wednesday.
As Trump continued to close in in the early morning hours, her chairman, John Podesta, told supporters at her headquarters in New York around 2 a.m. Wednesday that too many states were "too close to call," and people should go home and "get some sleep."
The announcement marked the first time there hasn't been a concession speech on election night since 2004's election between George W. Bush and John Kerry, according to fivethirtyeight.com
Vice president-elect Mike Pence took the stage at 2:45 a.m. Wednesday at Trump's headquarters in New York City.
"This is a historic night," Pence said. "The American people have spoken, and the American people have elected their new champion."
Trump thanked his supporters, and he confirmed that he had received a call from Clinton.
"She congratulated us — it's about us on our victory — and I congratulated her and her family on a very hard fought campaign… we owe her a major debt of gratitude for her service," Trump said.
Trump also pledged to be a "president to all Americans."  
"Now it's time for America to bind the wounds of division," Trump said. "It is time for us to come together as one, united people."
The president-elect also shared a message to those who have not necessarily supported him, emphasizing the importance of togetherness to unify the country.
"Working together we will begin the urgent task of rebuilding our nation and renewing the American dream," Trump said.  
The Associated Press contributed to this report.