Decision 2016: The Northerner Election Day Coverage
November 8, 2016
BREAKING: TRUMP DECLARED PRESIDENT-ELECT IN STUNNING UPSET
Updated 11/9/2016 2:32 a.m.
Despite being the underdog in all the major polls and projections for months, Donald J. Trump was declared president-elect Wednesday morning by the Associated Press after passing the 270 electoral vote threshold needed to win the electoral college.
In addition, the Republican Party will maintain control of both the House of Representatives and Senate, according to the Associated Press.
We will have more coverage on the election and the aftermath in the days to come.
Thank you to all of our loyal readers who stayed with us all day and night long, and thanks to our fantastic Northerner staff for all their hard work throughout the day.
---
NEARLY MIDNIGHT AND THE RACE IS STILL UNDECIDED
Updated 11/8/2016 11:58 p.m.
We have nearly reached Wednesday morning Eastern Standard Time, and the presidential race is still not decided. Pictured above is our white board in the newsroom, still with states that have not been called by CNN.
---
TRUMP WINS GEORGIA, INCHES CLOSER TO 270 ELECTORAL VOTES
Updated 11/8/2016 11:49 p.m.
As the Associated Press continues to call state results in the presidential race, Republican presidential candidate Donald Trump continues to inch closer to the 270 electoral votes needed to win the presidency. At the moment, he has 232 electoral votes to 209 for Clinton.
States that have not yet been called by CNN include New Hampshire, Maine, Michigan, Pennsylvania, Minnesota, Wisconsin, Iowa, Nevada, and Alaska.
---
BREAKING: CLINTON TAKES CALIFORNIA; OVERALL RACE VERY CLOSE
Updated 11/8/2016 11:07 p.m.
Another set of polls have closed, and California has been called for Hillary Clinton. Still, the electoral college race is still very close.
We're still very caffeinated in The Northerner newsroom. We'll be here until there is a winner (if there is a winner).
---
BREAKING: ABC NEWS, CNN CALL OHIO FOR TRUMP
Updated 11/8/2016 10:30 p.m.
ABC News and CNN have projected that Donald Trump has won the state of Ohio. Right now the interactive map we've been linking to is offline. Hopefully it will be back online soon. Right now the electoral race is 167 for Trump and 109 for Clinton, with 270 needed to win the presidency.
---
UPDATED MAP WITH LATEST ELECTORAL VOTES
Updated 11/8/2016 10:04 p.m.
Another batch of state polls have closed and more results continue to roll in. Check the map for the latest results.
CASTING VOTES AND CATCHING POKEMON
Posted 11/8/2016 9:57 p.m.
By EMILY OSTERHOLZ
Arts & Life Editor
Kellyn Hoffert didn't want to drive 50 minutes all the way from NKU to Fairfield, her hometown, by herself.
That's how it started. Pokémon Go To The Polls was organized by Hoffert and Marisa Yerace to help students get to different polling locations while also adding a little more excitement; finding local areas that have pokestops and hunting for rare Pokémon.
Hoffert, a junior biology major, said there's a Jungle Jim's close to the voting polls near her house and is a great spot for catching Pokemon. Plus, she was able to vote.
"I'm super lazy to absentee vote and I knew I wouldn't do it," Hoffert said. "So I was trying to get people to hold me accountable. I was like 'Who wants to come to Fairfield with me to vote?' That's kind of how it started. It just turned into the perfect combination." (LINK)
---
BREAKING: MORE STATES HAVE BEEN CALLED; OHIO, FLORIDA TOO CLOSE TO CALL
Posted 11/8/2016 9:07 p.m.
The Associated Press has called more state results in the presidential race. Ohio and Florida are two states that are still too close to call. Here is the updated map.
CLINTON, TRUMP SUPPORTERS UNITE TO WATCH RETURNS
Posted 11/8/2016 8:55 p.m.
By AMANDA EMERSON
Reporter
NKU millennials waited patiently for results at the election watch party Tuesday held by Activities Programming Board in the Student Union.
"I don't talk about who I vote for, I think it's a personal opinion, but I don't skew either way," Emily Powell said.
Powell, director of entertainment events of APB and senior accounting and finance major, helped set up the election watch party for NKU students.
Event organizers hosted the event that would allow students to watch the returns regardless of which candidate they supported. (LINK)
BREAKING: CLINTON TAKES FOUR STATES, DC; TRUMP TAKES OKLAHOMA, SOUTH CAROLINA
Posted 11/8/2016 8:08 p.m.
As the polls closed at 8 p.m. in several states, the Associated Press called more states. Hillary Clinton is projected to win Delaware, Maryland, New Jersey, Massachusetts and the District of Columbia. Donald Trump is projected to win Oklahoma and South Carolina.
Here is the updated electoral college map.
---
STUDENTS WATCH RETURNS AT THE APB WATCH PARTY
Posted 11/8/2016 8:00 p.m.
Our reporter Amanda Emerson visited the APB watch party and shot these photos of the festivities.
BREAKING: AP CALLS WEST VIRGINIA FOR TRUMP
Posted 11/8/2016 7:34 p.m.
The Associated Press has called the state of West Virginia for Trump. Scroll down to see the updated map.
---
BREAKING: TRUMP TAKES KENTUCKY, INDIANA; CLINTON TAKES VERMONT
Posted 11/8/2016 7:07 p.m.
Just before 7 p.m., the Associated Press made calls in three states. The AP has called the presidential race in Kentucky and Indiana for Donald Trump, and the presidential race in Vermont for Hillary Clinton.
Here is the updated electoral college map. (LINK):
---
ONE HOUR LEFT IN KENTUCKY, INDIANA
Posted 11/8/2016 5:00 p.m.
By MATT SEXTON
Managing Editor
If you plan to vote in Kentucky or Indiana, you need to be in line in the next hour. Polls close at 6 p.m. in the Commonwealth and in the Hoosier State. If you live in Ohio, the polls close at 7:30 p.m.
Keep checking back with The Northerner throughout the evening for all the latest election coverage.
---
AP: VOTERS FACE LONG LINES, MACHINE PROBLEMS IN SOME STATES
Posted 11/8/2016 4:46 p.m.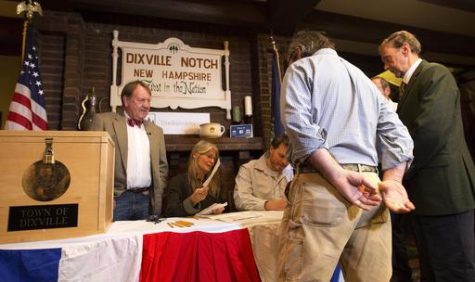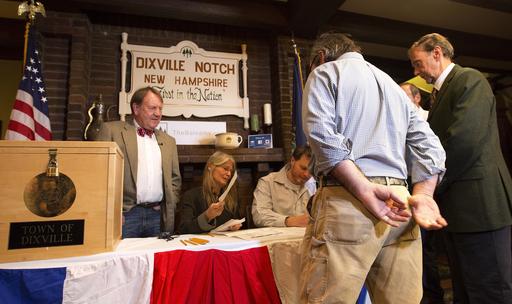 WASHINGTON (AP) — Despite Donald Trump's continued skepticism that the election was on the up and up, few voters who went to the polls Tuesday encountered problems — and even then, most issues involved the usual machine breakdowns and long lines. (LINK)
---
PROFESSOR'S PASSION FOR POLITICS GIVES LIFE TO PRESIDENTIAL DEBATES
Posted 11/8/2016 4:23 p.m.
By TORI LENTZ
Contributor
Dr. Steven Weiss knew he probably wouldn't be able to get a word in edgewise in his next class.
The longtime communication studies professor was planning to broach the topic of the most recent presidential debate to his students. If the class never moved beyond that subject— a very likely possibility– Dr. Weiss said he was perfectly alright to just sit back and listen. (LINK)
---
A VOICE AND A CHOICE: STUDENT OPTS FOR THIRD PARTY
Posted 11/8/2016 3:25 p.m.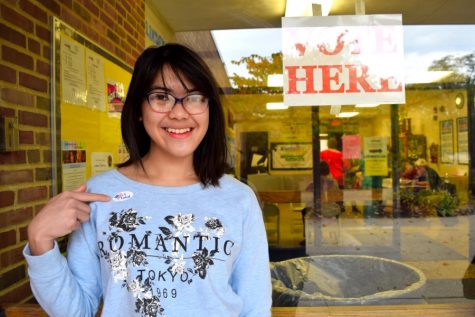 By MACKENZIE MANLEY
News Editor
It was her first time voting in a presidential election.
Along with her brother, they pulled into an adjacent parking lot at AJ Linderman Elementary School, their polling place.
Mary Andrikus, a junior economics and Spanish major, marked her ballot for Jill Stein, a green party candidate.  
"I feel good, because I have the right to vote," Andrikus said.  "I have a voice. I have a choice." (LINK)
---
VIDEO: NKU 2016 – PRESIDENTIAL ELECTION
Posted 11/8/2016 2:20 p.m.
With only hours left in the election, our own Alec Reynolds, Kyle Willard and Lexie Vogt found a chance to get out on campus and ask students how they felt about this year's presidential election.  Don't forget to vote today!
---
OPINION: WHAT THE RESULTS OF THE ELECTION WILL MEAN FOR THE SUPREME COURT
Posted 11/8/2016 1:49 p.m.
Our Aaron Thatcher spoke to NKU political science professor and lawyer Bruce McClure to get his opinion on what the results of the presidential election might mean for filling the vacancy on the Supreme Court. (LINK)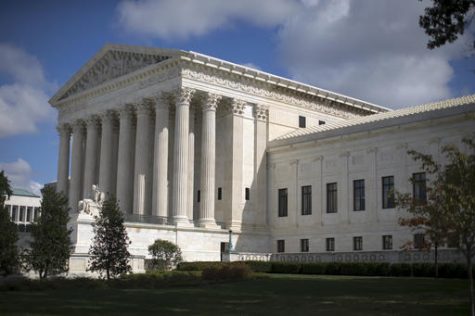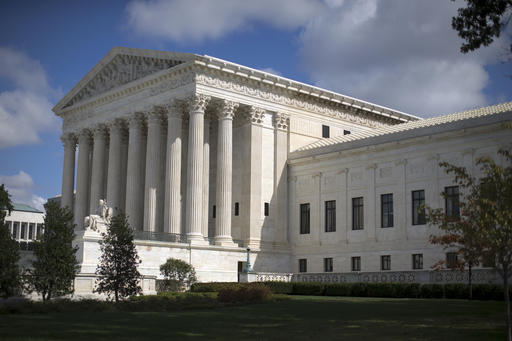 ---
HERALD-LEADER: 64 CALLS TO STATE FRAUD LINE
Posted 11/8/2016 1:43 p.m.
According to the Lexington Herald-Leader, there were 64 calls to the state election fraud line by 10:30 a.m. this morning. The Herald-Leader reported most of the cases were just procedural, but there were some issues around the state. (LINK)
A reminder that the polls remain open in Kentucky and Indiana until 6 p.m. and 7:30 p.m. in Ohio.
---
AP: UPDATE ON THE KENTUCKY SENATE RACE
Posted 11/8/2016 1:26 p.m.
The race for the White House isn't the only thing on the ballot today, of course. There is a US Senate race in Kentucky, and the Associated Press has an update on that race. (LINK)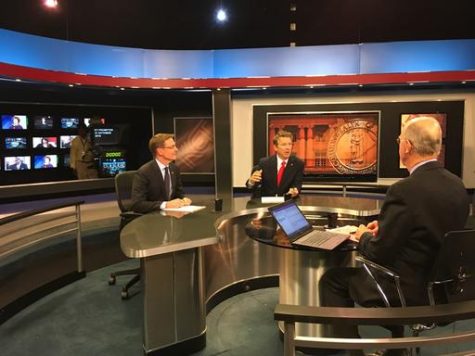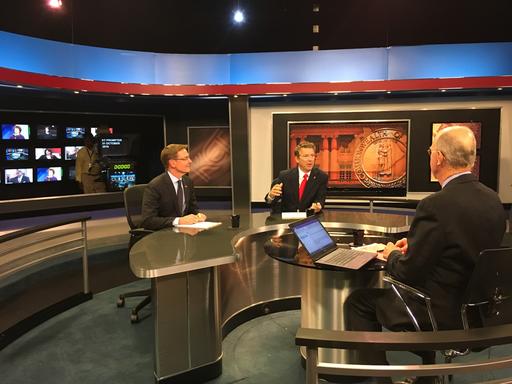 ---
ASSOCIATED PRESS: UPDATES FROM AROUND THE WORLD
Posted 11/8/2016 1:11 p.m.
Here is a story from our partners at the Associated Press which discusses reaction around the world to the presidential election. (LINK)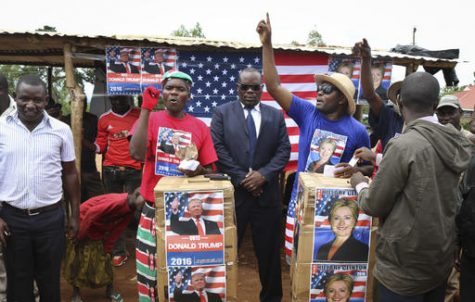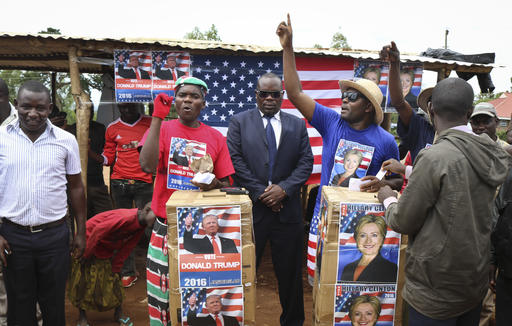 ---
VIDEO: GO VOTE! 2016
Posted 11/8/2016 12:18 p.m.
The 2016 Presidential election is nearing its end. This year's election is one of the hardest decisions most Americans will face as voters. Not only do they need to select a candidate, they first need to decide to cast a ballot. We asked NKU students and faculty to tell us why they are voting in this year's election or why not? Check out this video done by our own Dean DeRoche, Drew Hendricks and Brad Long.
Dean DeRoche, Drew Hendricks, Brad Long/The Northerner
---
POKEMON GO TO THE POLLS
Posted 11/8/2016 11:58 a.m.
As students make their way to the polls, one group of NKU student have found an interesting way to spend election day.
Our Emily Osterholz is reporting on Pokémon Go to the Polls, an event that has students going from one polling place to another playing Pokémon Go.
More from Emily on Pokémon Go to the Polls later today!
Matt Sexton
Managing Editor, The Northerner
---
Posted 11/8/2016 8:30 a.m.
Welcome to The Northerner's ongoing coverage of Election Day 2016. Today this will be your one stop for all election coverage. We'll be at the news desk from now until a winner is declared in the presidential race, if that happens sometime in the next 24 hours.
If there are any election-themed events going on around campus, please reach out to us on Facebook or Twitter to let us know! We'd love to hear from you. Also, please share your photos throughout the day with us on those same social media platforms.
Also, if you have any issues voting, or see anything out of the ordinary, please let us know that as well. We're prepare to head out to where the stories are.
Throughout the day, we'll be passing along local stories of interest involving NKU students and alumni, as well as pulling stories from our partners as the Associated Press to keep you updated on what's going on nationwide.
It should be historic, no matter what happens. Keep us bookmarked all day long for all the latest election news!
Matt Sexton
Managing Editor, The Northerner