Kentucky Senate candidates vow to change Washington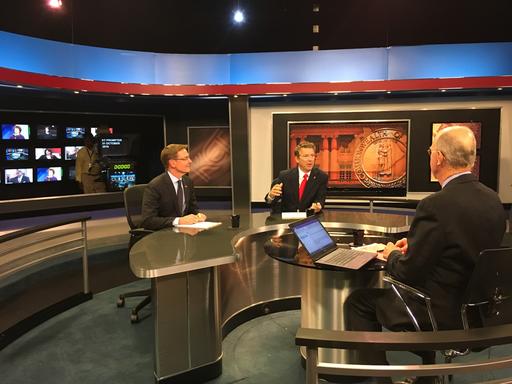 FRANKFORT, Ky. (AP) — Kentucky's U.S. Senate candidates can agree on one thing: Washington is terrible.
Republican U.S. Sen. Rand Paul and Democrat Jim Gray assailed the political establishment during the final day of campaigning as both candidates toured the state's major media markets.
On Tuesday, officials said voter turnout was steady across the state with lines reported at some polling places. So far, officials say the election has run smoothly with no reports of major problems.
The day before, while in Lexington, Paul predicted a "big, big year for conservatives" because he said Kentuckians are "sick and tired of big government." In Louisville, Gray said people are "exhausted with the gridlock and dysfunction" and said the only way to change Washington is to "change the people we send up there."
Paul is seeking a second term after a failed presidential bid earlier this year. Gray, the mayor of Lexington, is trying to become the state's first openly gay U.S. Senator. Paul seems to have a built-in advantage, as Kentucky voters have repeatedly sided with Republicans in federal elections. But Gray has raised more money than Paul since January and has outspent him by $1 million on TV ads. That does not include spending from outside groups, where Paul has more support.
Speaking to supporters at the Aviation Museum of Kentucky in Lexington, Paul laid out what he called "a clear contrast in vision between them and us."
"We want a country that can have enough money and wealth to pave our roads here and quit paving the roads in Afghanistan," he said.
Paul did not mention Gray in his remarks, saving his attacks for Democratic presidential nominee Hillary Clinton. But his biggest applause line came when he criticized FBI director James Comey, who recommended Clinton not be prosecuted for using a personal email server to conduct government business.
"There was one U.S. senator that voted 'no' on Comey, and you are looking at him," Paul said.
Gray, who campaigned Monday with former Democratic Gov. Steve Beshear among others, said he is "not going to tell anybody who to vote for president." Instead, he cast Paul as outside the mainstream, someone who contributed to congressional inaction caused by partisan fighting. Speaking to reporters afterward, Gray blamed Paul for focusing on what he called "wild-ass theories" that he said won't solve basic problems.
"They're not going to build the first bridge, or highway or factory," he said. "And they're not going to create the first job."