Opinion: What the results of the election will mean for the Supreme Court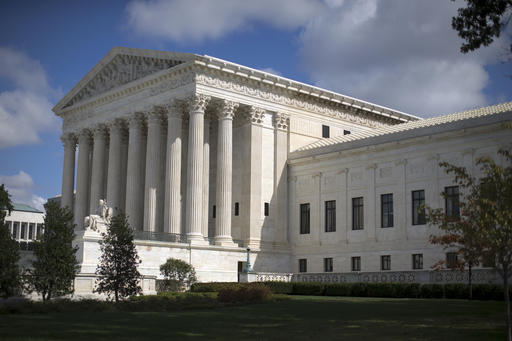 The next president of the United States will appoint at least one U.S. Supreme Court Justice to replace the late Justice Antonin Scalia.
According to Article III, Section 1 of the U.S. Constitution, a Supreme Court Justice's appointment is essentially life-long with "good behavior", potentially meaning that the President that appoints them, along with the Senate that approves them, can have a lasting impact on American political decisions for many year to come.
Whoever wins on November 8 will be the one to own that legacy, and according to NKU Political Science Professor and lawyer Bruce McClure, this is truly the driving issue of the election.
"[The Supreme Court]'s ultimate goal is to reflect the people," McClure said. "They can be a very potent force, a social force and a legal force."
McClure also said that the Court's role has changed significantly since its constitutional conception.
"In the original Constitution, we as a people didn't even vote for the Senate," McClure said. "They distanced us from the Supreme Court."
The Court's motives shift along with interest groups, according to McClure.
NKU Pre-Law student Rutger Dole, one of Professor McClure's "legal scholars," added some of his own thoughts to McClure's ideas about the Court's purpose.
"The Supreme Court does apply the Constitution to today's world, but I think also that they should consider what the founders believed," Dole said, "It has definitely promoted benefits, but it's also had its setbacks."
Dole went on to say that setbacks like the Plessy v. Ferguson case, which determined that "separate but equal" accommodations for African Americans were constitutionally acceptable, can also be reverted by positive benefits like the Brown v. Board of Education case, which overruled the "separate but equal" policy.
"The Court's power of interpretation can be a good and a bad thing," Dole said.
Chris Powers, another one on McClure's "scholars", was the first to discuss the issue of the Court on the level of the individual candidates.
"Hillary Clinton comes from a legal background, she has her law degree and over twenty years of legislative experience," Powers said. "I think her choice is going to reflect the general opinion of the Democratic party."
Powers also said that he thinks that Clinton's candidates for the Supreme Court could potentially be more liberal than Barack Obama's more moderate choice. According to Powers, Republican presidential candidate Donald Trump's lack of political experience could hurt his choices of Justices.
"Trump on the other hand doesn't necessarily understand how the political world operates," Powers said. "I think that he is going to pick somebody that aligns with one of his more reactionary stances."
According to Powers, these stances include issues like border patrol, immigration cutdowns, and pro-life legislature.
Dole said that he agreed with Powers' assessment of Clinton's candidates, and had his own statement to make on Trump.
"Before running this election [Trump] described himself as a Democrat, and some of his views have flipped," Dole said. "If the Democrats control the Senate and Trump is elected President, I could see Trump compromising and maybe even putting a liberal on the court. He's not very predictable."
McClure also said in Clinton's defense that she has a track record of working with Republicans, but also said that Trump's business record shows that he too is capable of compromise.
"When we're looking at the Supreme Court, I don't think that there would be a huge difference in the temperament of the Justice that either of them would pick,"  McClure said. "I think that Hillary understands how to get her appointment through the Senate better than Donald Trump does. She could be better at intentionally changing the court. Trump, if he has any political experience, it's in wielding influence. This they have in common."
Professor McClure, after discussing party politics for close to an hour, returned to the theme of the court's purpose as he finished.
"What is the purpose of the court? People turn to them. They say 'look at this court, what this court is doing,'" McClure said.
On Nov. 8, what that court is doing, and what it will soon do, will be up to American voters.