Albright takes command Part II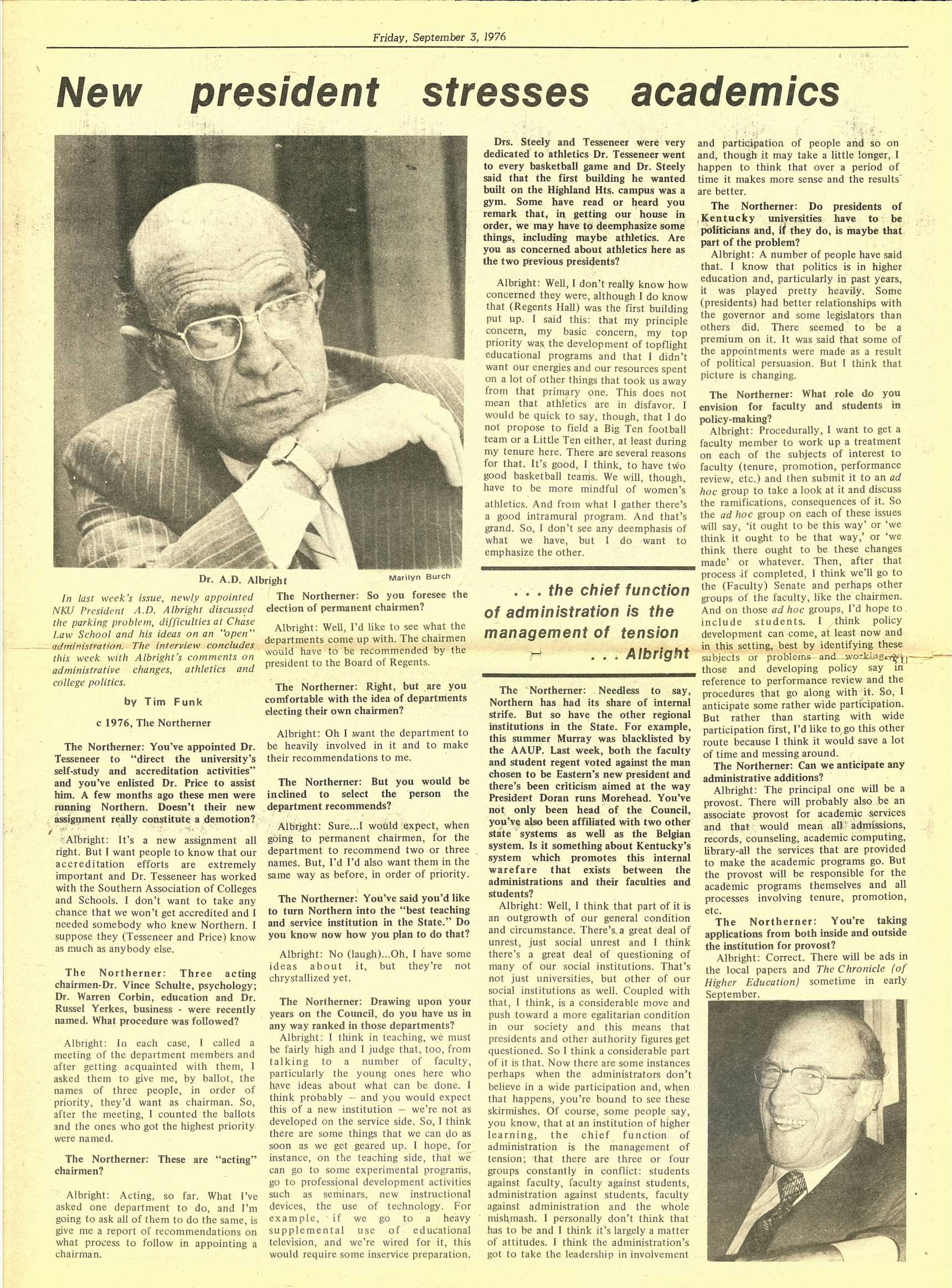 In last week's issue, newly appointed NKU President A. D. Albright discussed the parking problem, difficulties at Chase Law School and his ideas on an 'open' administration. The interview concludes this week with Albright's comments on administrative changes, athletics and college politics.
The Northerner: You've appointed Dr. Tesseneer to 'direct the university's self-study and accreditation activities' and you've enlisted Dr. Price to assist him. A few months ago these men were running Northern. Doesn't their new assignment really constitute a demotion?
Albright: It's a new assignment all right. But I want people to know that our accreditation efforts are extremely important and Dr. Tesseneer has worked with the Southern Association of Colleges and Schools. I don't want to take any chance that we won't get accredited and I needed somebody who knew Northern. I suppose they (Tesseneer and Price) know as much as anybody else.

The Northerner: Three acting chairmen- Dr. Vince Schulte, psychology; Dr. Warren Corbin, education and Dr. Russel Yerkes, business- were recently named. What procedure was followed?
Albright: In each case, I called a meeting of the department members and after getting acquainted with them, I asked them to give me, by ballot, the names of three people, in order of priority, they'd want as a chairman. So, after the meeting, I counted the ballots and the ones who got the highest priority were named.
The Northerner: These as 'acting' chairmen?
Albright: Acting, so far. What I've asked one department to do, and I'm going to ask all of them to do the same, is give me a report of recommendations on what process to follow in appointing a chairmen.
The Northerner: So you foresee the election of permanent chairmen?
Albright: Well, I'd like to see what the departments come up with. The chairmen would have to be recommended by the Board of Regents.
The Northerner: Right, but are you comfortable with the idea of departments electing their own chairmen?
Albright: Sure 'hellip; I would expect, when going to permanent chairmen, for the department to recommend two or three names. But, I'd also want them in the same way before, in order of priority.

The Northerner: You've said you'd like to turn Northern into the 'best teaching and service institution in the State.' Do you know now how you plan to do that?
Albright: No (laugh) 'hellip; Oh, I have some ideas about it, but they're not crystallized yet.
The Northerner: Drawing upon your years on the Council, do you have us in any way ranked in those departments?
Albright: I think in teaching, we must be fairly high and I judge that, too, from talking to a number of faculty, particularly the young ones here who have ideas about what can be done. I think probably- and you would expect this of a new institution- we're not as developed on the service side. So I think there are some things that we can do as soon as we get geared up. I hope, for instance, on the teaching side, that we can go to professional development activities such as seminars, new instructional devices, the use of technology. For example, if we go to a heavy supplemental use of educational television, and we're wired for it, this would require some in-service preparation.
The Northerner: Needless to say, Northern has had its share of internal strife. But so have other regional institutions in the State. For example, this summer Murray was blacklisted by the AAUP. Last week, both the faculty and student regent voted against the man chosen to be Eastern's new president and there's been criticism aimed at the way President Doran runs Morehead. You've not only been the head of the Council, you've also been affiliated with two other state systems as well as the Belgian system. Is it something about Kentucky's system, which promotes this internal warfare that exists between the administrations and their faculties and students?
Albright: Well, I think that part of it is an out growth of our general condition and circumstance.' There's a great deal of unrest, just social unrest and I think there's a great deal of questioning of many of our social institutions. That's not just universities, but other of our social institutions as well. Coupled with that, I think, is a considerable move and push toward a more egalitarian condition in our society and this means that presidents and other authority figures get questioned. So I think a considerable part of it is that. Now there are some instances perhaps when the administrations don't believe in a wide participation and, when that happens, you're bound to see these skirmishes. Of course, some people say, you know, that an institution of higher learning, the chief function of administration is the management of tension; that there are three or four groups constantly in conflict: students against faculty, faculty against students, administration and the whole mishmash. I personally don't think that has to be and I think it's largely a matter of attitudes. I think the administration's go to take the leadership in involvement and participation of people and so on and, though it may take a little longer, I happen to think that over a period of time it makes more sense and the results are better.
The Northerner: Do presidents of Kentucky universities have to be politicians and, if they do, is maybe that part of the problem?
Albright: A number of people have said that. I know that politics is in higher education and, particularly in past years, it was played pretty heavily. Some (presidents) had better relationships with the governor and some legislators than others did. There seemed to be a premium on it. It was said that some of the appointments were made as a result of political persuasion. But I think that picture is changing.

The Northerner: What role do you envision for faculty and students in policy-making?
Albright: Procedurally, I want to get a faculty member to work up a treatment on each of the subjects of interest to faculty (tenure, promotion, performance review, etc.) and then submit it to an ad hoc group to take a look at it and discuss the ramifications, consequences of it. So the ad hoc group on each of these issues will say, 'it ought to be that way' or 'we think it ought to be that way,' or 'we think there ought to be these changes made' or whatever. Then, after that process if completed, I think we'll go to the (Faculty) Senate and perhaps other groups of the faculty, like the chairmen. And on those ad hoc groups, I'd hope to include students. I think policy development can come, at least now and in this setting, best by identifying these subjects or problems and working on those and developing policy say in reference to performance review and the procedures that go along with it. So, I anticipate some rather wide participation. But rather than starting with wide participation first, I'd like to go this other route because I think it would save a lot of time and messing around.
The Northerner: Can we anticipate any administrative additions?
Albright: The principal one will be a provost. There will probably also be an associate provost for academic services and that would mean all admissions, records, counseling, academic computing, library-all services that are provided to make the academic programs go. But the provost will be responsible for the academic programs themselves and all processes involving tenure, promotion, etc.
The Northerner: You're taking applications from both inside and outside the institution for provost?
Albright: Correct. The
re will be ads in the local papers and The Chronicle (of Higher Education) sometime in early September.
'