Will third time be a charm?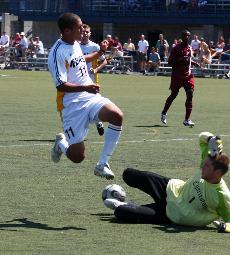 Tom Miller
The Northern Kentucky University Men's Soccer team advanced to the Elite Eight in the NCAA Division II Tournament 4-3 on penalty kicks against Lewis Nov. 16 in Kansas City, Mo.
This marked the first time in 20 years that the Norse won a game on penalty kicks, according to the NKU Sports Information Web site.
The win sophomore forward Steven Beattie ecstatic.
"It was amazing," Beattie said in a Facebook chat. "The game was very intense, but once the game went to penalty kicks it went to a different level. You knew no one could slip up or it would cost you the whole season."
With the win, the Norse claimed the Midwest Regional title for the third consecutive time. They will face Millersville at 7 p.m. Nov. 22 in Millersville, Penn.
Millersville defeated Slippery Rock 3-0 to win the Atlantic Regional title.
"Millersville has a record of 16-3-0, which is impressive," Beattie said. "It's the first time in their school history that they are in the NCAA Tournament."
With this being Millersville's first year in the tournament and the Norse being in the Elite Eight for the third consecutive year could play to NKU's advantage. Beattie said he feels his team will be ready, even with having a young team.
"We have a young team too, so we aren't that experienced," he said. "But most of our starters played in the Elite Eight last year, so we know what to expect and to take any chance we can get."
Beattie, however, will have to sit out the game.
"I got a yellow card on Nov. 14 and Nov. 16, and I have reached eight for the season," he said. "That means I will have to sit the next game out."
Without the presence of their leading scorer, the Norse will have to look to find offensive production elsewhere.
Junior forward Braden Bishop is second on the team in goals scored with seven, and Beattie pointed to him and the team.
"Braden (Bishop) is playing well, so I am confident he can do it," Beattie said. "We have a great bunch of guys, a team of winners. So, I know someone will step up and be the hero."
Although he has to sit out, Beattie will be rooting for his team.
"I'll lead and encourage from the bench," he said.
Beattie's ultimate goal is to get to Tampa for the Final Four, and he feels the team will make it.
"I think we will do it," he said. "I feel we have the heart and courage to take us where we have never gone before. I just want to be on that plane to Tampa, Fl., to represent NKU in the Final Four for the first time."