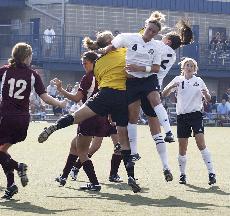 Tim Downer
The Northern Kentucky University Women's Soccer team had the offensive output that should give any soccer team a win. But, the Norse had to play strong defense at the end to defeat Bellarmine University 3-2 Nov. 2 at the Town ' Country Sports Complex in Wilder.
With a 3-0 lead, a soccer team can usually lax off into a sleep mode. That is where the opposing team sneaks in on them.
Bellarmine didn't score a goal until the 77th minute, but just two minutes later Knights and Amanda Moore added a second goal on a rebound shot from point blank.
At this point NKU Head Coach Bob Sheehan decided to yank the players on the field and put the bench in. Senior forward Lauren Franzen, who had two of the three goals for the Norse was on the field at the time.
"I was on the field when Bellarmine scored the two goals and you could tell coach was upset," Franzen said. "Even after the game was over, you could still tell he was upset with the team."
The win by the Norse advances them to the Great Lakes Valley Conference semi-final match with Indianapolis at noon Eastern Standard Time in Kenosha, Wis.
Indianapolis defeated Quincy 1-0 in two overtimes to advance to play NKU. The Norse shutout the Greyhounds 3-0 back on Oct. 26 in Wilder.
If the Norse can get passed the Greyhounds, they could potentially face undefeated Wisconsin-Parkside in the GLVC Championship game at noon Nov. 9 and Franzen is eager to face the Rangers.
"We want to beat them (Wisconsin-Parkside)," she said. "That's who we are waiting for."