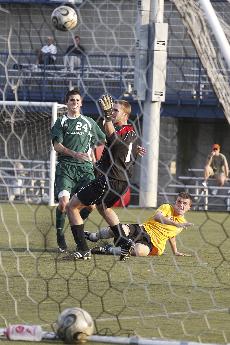 Tim Downer
The Northern Kentucky University Men's Soccer team escaped with a 1-0 win over Missouri-S'T to advance to the semi-finals in the Great Lakes Valley Conference Tournament.
The Norse had their bumps along the way as the team had no offensive rhythm in the game until sophomore forward Steven Beattie scored in the 87th minute.
NKU Head Coach John Basalyga said he hasn't seen the type of performance out of his team that he expects out of them.
"I don't know if it is the end of the year or that is that we have a bunch of kids that are younger and haven't been through this," he said. "You have to educate them. Last year, we had the players who had been through the wars of the tournament and knew what was expected of them. The team has to figure out their identity."
With the next game up in Kansas City, Mo., Basalyga said he feels this will help the younger players not only for the tournament, but also in the long run.
"If we win out (in the GLVC Tournament), we have a legitimate argument to host the regional tournament," Basalyga said. "If the team has to go on the road in the tournament, then so be it. I mean they're freshman. They're loony. They don't understand what it takes to be at this level."
The freshman on the soccer team will need to step up considering the loss of four seniors at the end of the year.
"You just got to keep finding the right players," Basalyga said. "I'm going to have to replace the four players after they graduate, plus work on developing them into the program."
A key highlight for the Norse is that they cracked the Top 10 (No. 9) in the Nov. 4 National Soccer Coaches Association of America Division II Top 25 Poll.
The Norse will play the No. 7 seeded Bellarmine in the semi-finals at 5:30 p.m. Eastern Standard Time in Kansas City, Mo., at Rockhurst University. Bellarmine pulled off an upset over No. 2 seeded Lewis in a 10-9 shootout.
If the men win against the Knights, the Norse have the ability to play Rockhurst in the conference championship game Nov. 9.
"If we can win, we can get No. 1 ranking in NCAA regionals," Beattie said.