Norse escapes Eagles cry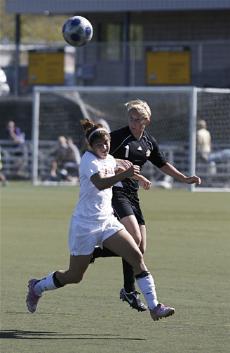 Tom Miller
The Northern Kentucky University Women's Soccer team extended its winning streak to four, defeating Southern Indiana 3-2 Oct. 12 at the Town ' Country Sports Complex in Wilder.
The Norse (10-2, 6-2 in the Great Lakes Valley Conference) are currently in second place, trailing No. 9 Wisconsin-Parkside (10-0-1, 6-0-1 in the GLVC).
NKU is ranked No. 19 in the Oct. 14 Division II Women's Soccer Top 25 poll, jumping five spots from last week's poll.
Senior forward Lauren Franzen led the way for the Norse, scoring two goals in the game, giving her six on the season.
"I felt we played a good game," Franzen said. "We kind of slipped away at the end, but held on and still got the win."
Franzen scored the first goal in the 16th minute, a crossing pass off defender from Brandi Doss from eight yards out.
Southern Indiana (4-9, 1-7 in the GLVC) tied the game up 1-1 in the 78th minute, when Megan Kempf lobbed the ball from 15-yards going to from the right side to the left post, her seventh of the season.
In the 85th minute the Norse took the lead back as Kari Costello scored her fourth goal of the season, a cross into the box from 10-yards out.
Franzen would score for the second time in the 87th minute, giving NKU a 3-1 lead.
Kempf would add her second goal of the game in the 89th minute, rebounding from four-yards out to make the final score 3-2.
A key for the Norse was senior goalkeeper Angela Healy, who had three saves in five tries.
"She is a huge impact and is great on and off the field," Franzen said. "Everyone looks up to her."
The Norse will head on the road to play Kentucky Wesleyan at 2:30 p.m. Oct. 17 in Owensboro, Ky. They will conclude the road trip against Bellarmine at noon Oct. 19. NKU returns home for Senior Day against Indianapolis at noon Oct. 26 at the Town ' Country Sports Complex in Wilder.
"I am looking forward to Senior Day," Franzen said. "I hope I don't cry."