Beattie scores two, leads Men to win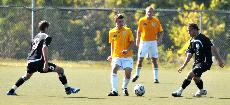 Jeff McCurry
The Northern Kentucky University Men's Soccer improved their record on the season, but fell in the rankings to No. 11 in the Oct. 7 Division II Men's Soccer Poll.
The Norse (8-1-1, 4-1-1 in the Great Lakes Valley Conference) defeated the Saint Joseph's Pumas 3-0, Oct. 5 at the Town ' Country Sports Complex in Wilder. This was their first win since defeating Missouri S'T 3-1 on Sept. 21.
"Coach told us in the locker room to go out fast and we did," sophomore forward Steven Beattie said. "Getting that first goal really helped us play our own game again."
Beattie scored two goals on the day, giving him 11 goals on the season. The Pumas (3-6-3, 1-3-2 in the GLVC) were unable to compete with the Norse as NKU outshot Saint Joseph's 26-11 and only had four shots on the goal.
Beattie got the scoring started early has he scored his first goal at the 10-second mark, after cleaning up his own rebound to give the Norse a 1-0 lead.
"As soon as we kicked the ball off I just ran," Beattie said. "I took it at full-speed and kicked it in, but the goalkeeper knocked it from the goal. I took the rebound and kicked it back in for the goal."
In the 14th minute NKU junior midfielder Mike Jonca scored on an assist from Beattie off the left post and in, to give the Norse a 2-0 lead.
The score would remain the same until the 63rd minute when Beattie scored his second goal of the game giving NKU a 3-0 advantage and the ultimate win over the Pumas.
Next for the Norse is a matchup with Missouri-St. Louis at 7:30 p.m. Oct. 10 at the Town ' Country Sports Complex in Wilder. NKU will conclude the homestand going against Southern Indiana at 2:30 p.m. Oct. 12.