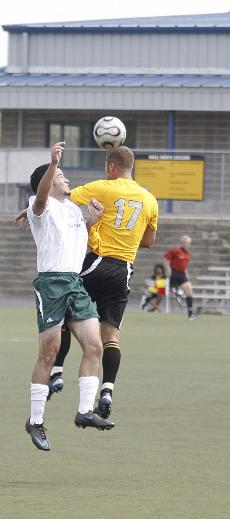 Tim Downer
The Northern Kentucky University Men's Soccer team struggled over the weekend, losing a Top 25 game to Drury 3-2, Sept. 26 in Springfield, Mo., tying Rockhurst 0-0, Sept. 28 in Kansas City, Mo.
In the first game, the loss to the Panthers was the first regular-season loss for the Norse in 742 days, according to the NKU Sports Information Web site.
The defeat ended a 29-game regular-season winning streak dating back to Oct. 30, 2005, when NKU lost to Indianapolis, 2-1.
The loss and the tie moved the Norse to No. 10 in the new Division II poll released Sept. 30.
Drury (8-1, 5-1 in the Great Lakes Valley Conference) got the offense started in the 42nd minute when junior forward Steve Wilczewski scored the first goal of the game, a shot five-yards out from the left side.
The Norse (7-1-1, 3-1-1 in the GLVC) tied the game in the 55th minute when junior forward Braden Bishop hit a straight shot for his second goal of the season.
In the 62nd minute, NKU senior midfielder Dustin Downey scored his first goal of the season from three-yards-out to give the Norse a 2-1 lead.
That would be the only lead the Norse would have as the Panthers tied the game in the 82nd minute when sophomore defender Ben Taylor scored in a free kick, his first of the season.
The game went into overtime for five minutes as Drury sophomore forward Micah Whorton kicked the game-winning goal from left center to win the game.
In the NKU/Rockhurst game, the Norse were looking to rebound from its first loss of the season.
One highlight of the game was NKU sophomore goalkeeper Michael Lavric recording seven saves on the day.
The offense for the Norse was slim, as the team only had one shot on the goal, compared to the seven by the Hawks.
Rockhurst (7-0-1, 4-0-1 in the GLVC) will head to Kirksville, Mo., to play Truman State (3-4) Oct. 3.
The Norse will play host to the Saint Joseph's Pumas (3-5-3, 1-2-2 in the GLVC) Oct. 5 at 2:30 p.m. at the Town ' Country Sports Complex in Wilder.
The Norse will contiue the homestand with games against conference opponents Missouri-St. Louis Oct. 10 and Southern Indiana Oct. 12.