Men's Soccer shuts down UW-P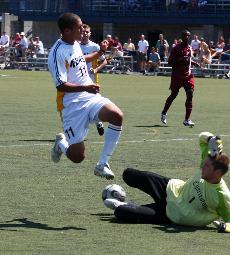 Tim Downer
If there was a question as to whether the Northern Kentucky University Men's Soccer team should be No.1, the Norse answered with a 2-0 win against UW-Parkside Sept. 12 in Somer, Wisc.
NKU (5-0, 1-0 in the Great Lakes Valley Conference) had a tight-ridden defense allowing only six shots in the game, and only one of them being a shot-on-the-goal save by sophomore goalkeeper Micheal Lavric.
The score was knotted at 0-0 until the 41st minute, when senior defensiveman Eric Ashworth scored his second goal of the season, giving the Norse an early 1-0 lead.
Sophomore forward Steven Beattie added another goal, his fourth of the season, in the 84th minute to give the Norse a 2-0 lead, that would hold on for the win.
"It was good to get the win," Beattie said. "We didn't play to the best of our abilities. We were kind of slow in the first half and in the second half when we got the second goal, we felt more comfortable about the game."
The Rangers (3-1, 0-1 in the GLVC) held in with NKU as UW-Parkside goalkeeper Greg Fischer had seven saves on the day, but allowed two goals by him.
The Sept. 14 game with GLVC champion Lewis University was postponed due to inclement weather. No makeup date has been announced. Last season the Norse split the two games against the Flyers, losing to Lewis in the GLVC Championship game last season.
"That was the game I was looking forward to the most," Beattie said. "It was going to be a massive game and I feel that whoever wins that game will win the conference."
Next for NKU is a home matchup with Quincy at 7:30 p.m., Sept. 19 at the Town ' Country Sports Complex in Wilder.