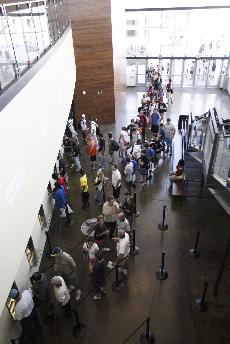 Tim Downer
The new state-of-the art Bank of Kentucky Center will bring an era of change to Northern Kentucky University, but some older standards will remain the same.
Free tickets to the Nov. 8 NKU/Louisville exhibition game were available to the first 1,400 students Sept. 8 at the Bank of Kentucky Center.
"There are less than 400 tickets remaining as of (Sept. 9)," said Kurt Moeller, associate director of NKU Athletics.
With having a school of Louisville's stature playing and having promised them $500,000 to do so, NKU wanted to give students the chance to receive free tickets.
"I think for this first game we wanted to make it a priority for students to get in for free," Moeller said. "We had some great sponsors to help us make this possible."
Humana Inc. and Dickman's Sports Caf'eacute; sponsored the free tickets.
After the 1,400 tickets are gone, students can get a discounted ticket of $15 for the game.
NKU (was) determined to give the students half-price tickets to make it affordable," Moeller said.
Some other changes to watching a basketball game at NKU is the availability of alcoholic beverages at sporting events.
"NKU was given a waiver by their conference (Great Lakes Valley Conference),"Moeller said. "The GLVC prohibits schools from serving alcohol at athletic events."
Some of the older standards at Norse basketball events are still the same. For example, students can still attend regular-season games free with their NKU All-Card.
"Students will be able to get in and will be seated in the south end zone," Moeller said. "The entire south portion of the arena will be the student section, which will consist of just over 1,400 seats."
Moeller said he is also seeing interest from the University of Louisville.
"NKU has had quite an extensive list of the NKU Alumni Chapter in Louisville request tickets," he said. "The chapter has around 175 tickets and the University of Louisville has purchased about 600."
When the game was announced Feb. 14, the anticipation of Louisville playing at the Center hit the presale list.
"Request for tickets came in immediately," Moeller said. "Some people actually caught wind of Louisville being the opponent before the announcement."
Season ticket sales have tripled, according to Moeller, possibly in correlation with the new arena and/or the 2008 National Champion Women's Basketball team.
"I feel it is a little of both," he said. "There is some excitement to see what Winstel has returning from last year's team. She lost two great players (Nicole Chiodi and Angela Healy), but she has two transfers that should help right away."
Tickets go on sale to the public Sept. 12. Prices for the game are $30 for an upper deck seat and $38 for the lower seating bowl. Regular season prices are yet to be determined.
"NKU is trying to recoup some of the cost," Moeller said. "We are trying to make the game a revenue generator. We looked at other venues and schools to get an idea of what price we should set it at."
NKU is also looking for a possible television broadcast for the Nov. 8 match up.
For more information on NKU basketball tickets and other events at the Center, go to www.bankofkentuckycenter.com.