Men's Soccer strikes oil against UF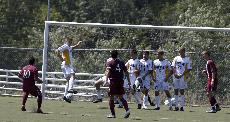 The Norse prepare to block a kick to the goal against Charleston W. Va. Sept. 3 at the Town & Country Sports Complex in Wilder.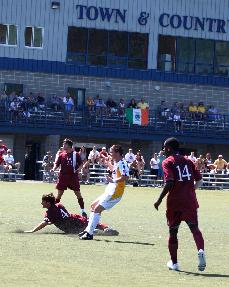 Tim Downer
The Northern Kentucky University Men's Soccer team continued it's winning streak, by defeating Findlay 2-0 Sept. 7 at the Town ' Country Sports Complex in Wilder, Ky.
Defense was the key for the Norse (4-0) allowing the Oilers (1-2) only four shots on the night, one reaching NKU goalkeeper Michael Lavric.
"They're still learning to play as a group," Basaylga said. "As they are learning how to play, they aren't allowing the other team to score."
In the 40th minute, senior defender Erik Ashworth scored the first goal of the game with a scramble in the box off of a free kick, giving the Norse 1-0 lead.
Findlay had very few opportunities to score, but kept NKU from blowing out the game by saving 10 shots on the goal.
"They (Norse) did a very good job of scrambling their (Findlay) defense," Basaylga said. "Some of our shots weren't really good shots and not good looks at the goal and their defense allowed them to keep things where they were."
Sophomore forward Steven Beattie, who was named Great Lakes Valley Conference Player of the Week last week, scored his fifth goal of the season in the 69th minute for NKU's second goal of the game.
"Steven is playing very well," Basaylga said. "He has people around helping him and he is doing a good job of taking people on. He wins balls and distributes balls and right now is playing well."
The Norse will travel on the road to Badger State Sept. 12 to play Wisconsin-Parkside, Wis. Rangers at 2: 15 p.m. Sept. 12.
The Men's Soccer team is ranked No. 1 in the country, according to the Sept. 9 NCAA Division II Poll.
This marks the first time since November 2007 that the team was ranked in the top spot in soccer.
Click Here for the NCAA Division II National Rankings.